Phuket Fishing Park, Sawai Lake.
Phuket.
"Phuket's Best Freshwater Fishing Park."
(Year round).
Non–fishermen are welcome to join you completley free of charge!
Please call us, we speak English! +66 (0) 87275 6074
Click here to view a gallery of fantastic fish from Sawai Lake Phuket.
Click here to view a gallery of more fish caught at Sawai Lake Phuket.
Sawai Lake
, Phuket's new fishing park is a fantastic new fishing venue located an
easy distance from the main resort areas on the island of
Phuket
.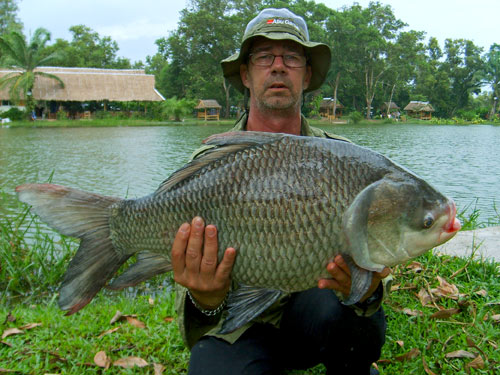 Set in a peaceful location away from the crowds, fishing in Phuket at Sawai Lake you
can enjoy action all day with many hard fighting Thai fishes, such as Giant Mekong
Catfish to 40 kilos, Striped Catfish to 20 kilos, Giant Siamese Carp to 10 kilos, Striped
Snakehead and Featherback to 4 kilos.
Introduced species include Arapaima to 65 kilos, Alligator Gar to 10 kilos, Pacu to 6
kilos, Rohu to 4 kilos, Red Tail Catfish to 12 kilos and Tilapia to 1.75 kilos.
Most of these fish are very fast growing and put on weight very quickly, with some
species growing by 5 kilos per month!

Please note Arapaima fishing is not available at this lake at the moment.
Click here for the nearest Arapaima fishing.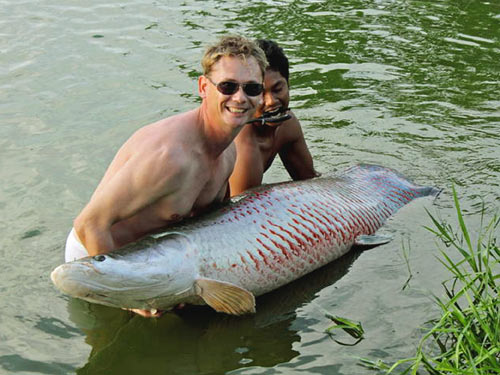 The lake holds lots of Red Bellied Pacu that are quite easy to catch when you know
how, and are one of the most exciting fish in Thailand to fight, often jumping clear of
the water and going on very fast long runs.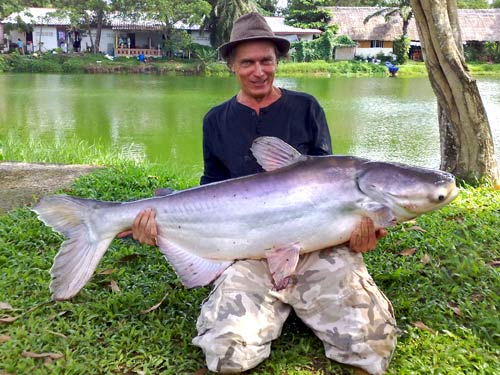 As well as the big fish, there are lots of smaller fish such as Tilapia, Pacu, Striped
Catfish, Rohu and Walking Catfish that provide sport almost non–stop and therefore
suitable for very light tackle fishing or pole fishing, and great fun for all the family.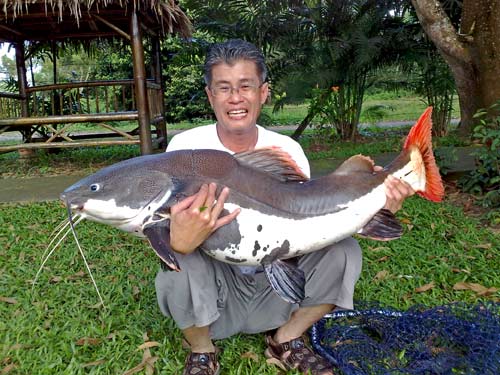 The
Giant Mekong Catfish
that inhabit the lake are also more challenging than at
Bungsam Lan Lake in Bangkok
with only a few of the 200 fish in the lake so far
being landed.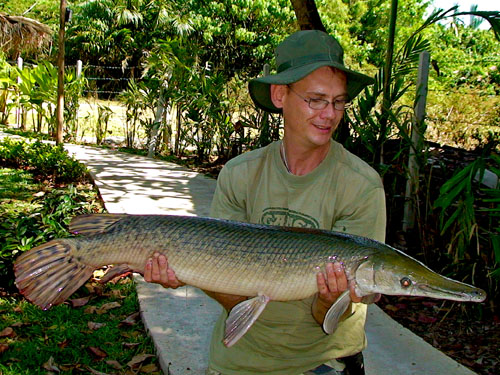 Predator fishing is now also included at no extra price. Target species are;
Alligator Gar, Amazon Redtail Catfish, Thai Redtail Catfish and Pacu.
| | |
| --- | --- |
| | |
Several of the species at Sawai Lake can also be targeted on fly–fishing equipment,
the main species being Pacu. Other species that also take fly include Arapaima,
Tilapia, Giant Gourami, Alligator Gar, Redtail Catfish and Featherback. We have a
selection of flies that are proven to catch fish available for a very reasonable price.
Alternately check out our webpage here for more information concerning fly–fishing
in Thailand and have a go at tying some of the patterns for yourself. Please note we do
not supply fly–fishing equipment and so you need to bring along your own rods, reels
and lines should you want to try fly–fishing.
Casting is restricted in some areas of the lake, where roll casting has to be adopted.
Fly–fishing at Sawai Lake is not easy, and you have to work hard to get results,
however should you want to switch methods to bait–fishing, this can be done at any
time during your trip.
---
Facilities at the lake include a stylish modern restaurant serving excellent Thai and
western cuisine, along with a bar area where you can celebrate your biggest fish, or
drown your sorrows and hear tales about "The one that got away!"
Food and drink can also be ordered and brought to you where you are fishing.
On site there are clean toilets and showers, bait and tackle shop.
All fishing trips include:
Round trip transfer between your Phuket hotel
and Sawai Lake.
Full assistance of a fishing guide.
All fishing equipment and bait.
Unlimited fishing from 8.00 until 18.00.

Not Included:
Food, soft drinks and alcohol
(these can be purchased very cheaply at the lake).
Please do not bring your own food and drinks to this lake.
Total price per person:
3,400 THB per day.
Two or more anglers, 3,000 THB each per day.
Extra rods including bait: 600 THB each.
Non–fishermen are welcome to join you completley free of charge.
---
Fishing Khao Lak recommends these hotels for this destination ––>

We are looking forward to seeing you, so until then,
Tight Lines!
Book Now | Freshwater Destinations | Go to Top
E–mail Us | Site Map | About Us