Fishing in Bungsam Lan Lake Bangkok.

"Fishing at Bungsam Lan Lake Bangkok is very tiring...

It should be, it is without question...

The best fishing lake in the world!"
(Year round fishing).
Please call us, we speak English! +66 (0) 87275 6074
Some of the world's absolute biggest and toughest fighting
freshwater fish can be found just outside Bangkok.
Bungsam Lan is an old tin mining quarry, which has been one of the best
freshwater fishing lakes in the world for many years!!!
A fishing spot you surely will remember for its non–stop action,with incredibly
powerful fighting fish, providing you with an unforgetable fishing experience.
More then 20 IGFA World records have been set at this lake!!!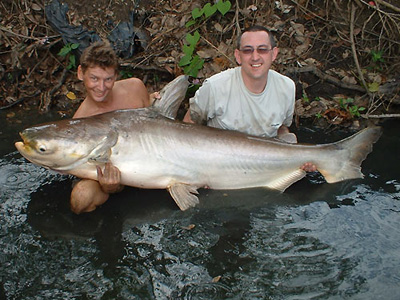 Striped Catfish and Giant Mekong Catfish are the most common catches,
but with more then 50 different species of fish in this lake, Bungsam Lan
offers a rich diversity of South East Asian as well as imported species.

The main species include:
Giant Snakehead, Mozambique Tilapia, Giant Gourami, Striped Catfish,
Giant Mekong Catfish, Chao Phraya Catfish, Giant Siamese Carp,
Pacu, Alligator Gar and Arapaima.
Please click on the name of a fish above to view a photo gallery of the species.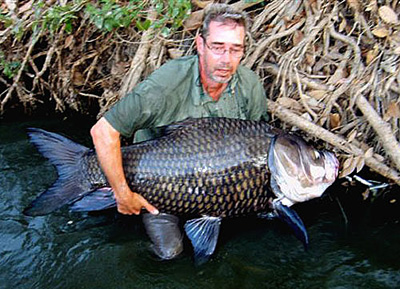 Bungsam Lan's catch report shows that an average of 40 to 50 kg of fish
per angler are caught in a day. Our catch results are much higher than this, and
you should expect to catch well over 100 kilos of fish, and very often much more!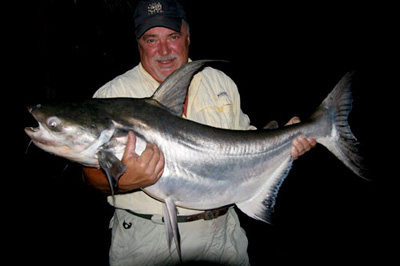 When it comes to experience, the fact of the matter is, NO western anglers have
fished more days in Bungsam Lan Lake Bangkok over the last 6 years than us!
We use only top brand equipment, giving us the edge over the competition.

This is why we have consistently achieved great results, sending home
hundreds of satisfied, and very tired customers!
We can teach you the methods that work, knots and rigs that you have probably never
seen before, and if its strong enough to work at Bungsam Lan, its strong enough to
work anywhere!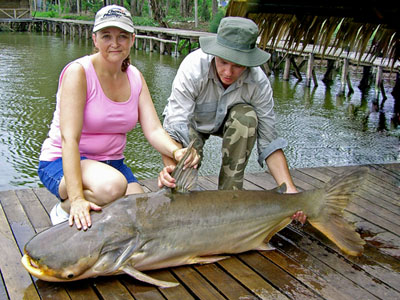 When it comes to fighting a Giant Mekong Catfish or a Giant Siamese Carp, 99% of
anglers are experiencing power from a fish they would never believe possible!
This is why it is very important that you are guided correctly, and taught the correct
techniques for going head to head with the strongest fighting fish of all.
Having an English speaker present at all times ensures you understand how to
achieve this, and radically reduces the number of fish lost in the numerous snags.
---
Booking the best fishing bungalows is essential for the best results at Bungsam Lan,
and can result in double or even treble amounts of fish caught in a day.
Bungsam Lan is getting increasingly popular and you need to book you're
fishing trip with us as soon as possible to give yourself the best days fishing you could
ever imagine.
No deposit is required; just confirm you're booking by telephone with us 2–3 days
prior to your fishing trip.
---
Extra rods are available for Carp fishing and/or Catfish.
Please note we do not charge if you just want to switch tactics to Carp fishing.
Extra Carp fishing rod price 2,500 THB.

24 hour sessions or multi days are recommended for anglers wishing to target
Giant Siamese Carp, which in Bungsam Lan grow to a mind blowing 120 kilos!
---
You can keep up to date with what is being caught at Bungsam Lan Lake
by clicking here, to read the latest catch results.
---
All fishing trips include:
Round trip transfer from your Bangkok hotel
or the airport to the lake.
Full assistance of a fishing guide.
All fishing equipment and bait.
Unlimited fishing from 9.00 until 17.00.
Private fishing hut – 2 people per hut.

Not Included:
Meals, soft drinks and alcohol
(these can be purchased very cheaply at the lake).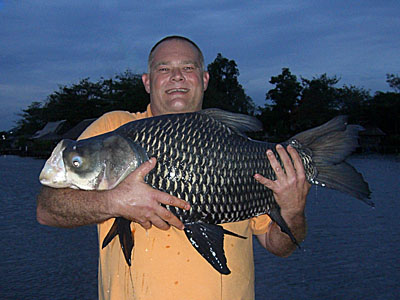 Prices per day:
| | |
| --- | --- |
| 1 angler: | 7.800 THB incl. 1 fishing guide. |
| 2 anglers: | 6.250 THB per angler incl. 1 fishing guide. |
| 3 anglers: | 5.800 THB per angler incl. 2 fishing guides. |
| 4 anglers: | 5.400 THB per angler incl. 2 fishing guides. |
| 5 or more: | 5.200 THB per angler incl. guides. |
For 24 hour sessions please add 4.500 THB per angler,
to the above prices for a standard 9 hour session.
Non–fishermen are welcome to join you
at the lake free of charge.
---
Fishing Khao Lak recommends these hotels for this destination ––>

We are looking forward to seeing you, so until then,
Tight Lines!
Book Now | Freshwater Destinations | Go to Top
E–mail Us | Site Map | About Us