Exotic Fishing Thailand
Phuket, Khao Lak, Ao Nang and Krabi.
(Year round fishing).
Luxury bungalow accomodation available at the lake from November 2016
.
Please call us, we speak English! +66 (0) 87275 6074
Exotic Fishing Thailand
is a brand new world class fishery located in
Phang Nga in southern Thailand just a short distance from Phuket, Khao
Lak, Krabi and Ao Nang. The location is incredibly stunning and
certainly one of, if not the most beautiful and best stocked fishing
locations in Thailand.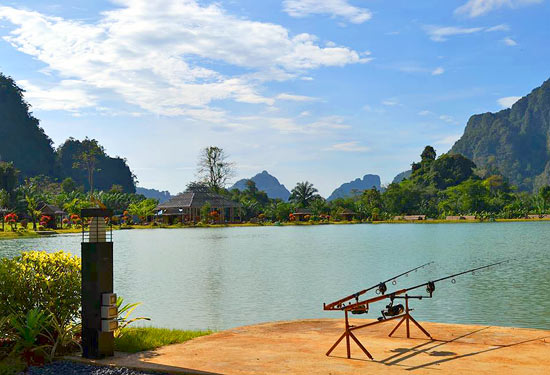 This large lake is surrounded by huge jungle covered mountains coming
down almost to the edge of the lake. If you are looking for peace and
tranquillity and awesome fishing, this could be the place for you. All the
swims are well spaced out and limited places are available. This is large
lake and our aim is to present perfect fishing conditions for your fishing
holiday.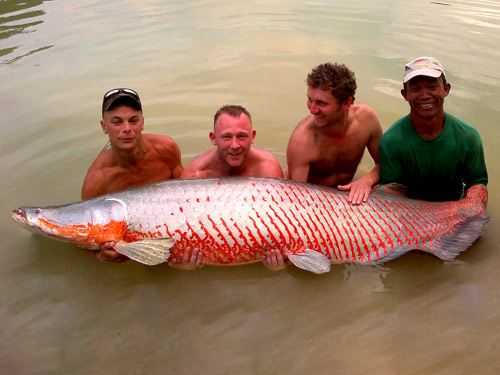 The aim of this fishery is to give anglers the opportunity to catch monster
sized exotic fish in a beautiful natural environment and for anglers
interested in catching different species of fish, many of which are not
present in other Thai fishing lakes. The lake is already stocked with over
66 different weird and wonderful species, and these are to be joined with
many more exotic species that are being grown in stock ponds.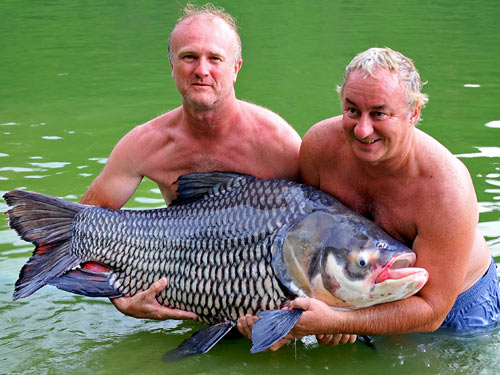 The usual favourite species are already present in the main lake such as
Arapaima stocked in large numbers up to around 150+ kilos, Giant
Mekong Catfish to over 120+ kilos, Giant Siamese Carp 60+kilos,
Alligator Gar 54 kilos, Chao Phraya Catfish and Amazon Redtail
Catfish. Some of the more exotic species include Giant Freshwater
Stingray, Amazon Stingray, Yellow Cheeked Carp (Pla Bambousa),
Tiger Shovelnose Catfish, Rohu, Mirgal, Big Head Carp, Atlantic
Tarpon, Nile Perch, Barramundi, Julian's Golden Price Carp, Black
Shark Carp, Tambaqui, Wallagoo (both Attu and Leary), Goonch, Vundu
Catfish, Jau / Zungaroo Catfish, Paraiba, Soldier River Barb, Arawana,
Rita Sacredotum, Black Eared Catfish, Giant Featherback, Spotted
Featherback, Wels Catfish, Ripsaw Catfish and many more!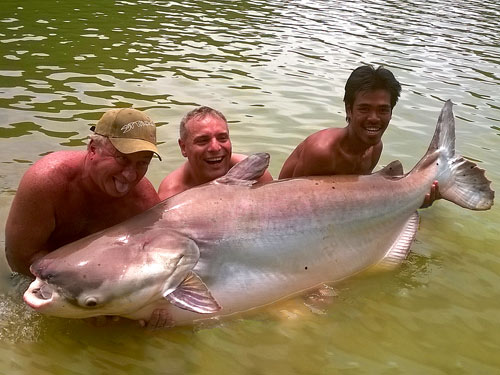 When fishing at this lake you will be required to enter the water for your
photographs, so you will need to bring some spare shorts and a towel
with you. Guides will be available at all times to land and un–hook the
fish and assist with photographs. The welfare of the fish is the number 1
priority at this fishery and no fish will be put at risk for the sake of a
photograph. After 1 or 2 quick photographs the fish will be released after
being inspected and treated for any wounds or damage. The guide's
decision is final and all fish must be released when instructed by the
guide. Anyone entering the water for a photograph, or to fight a fish does
so at their own risk.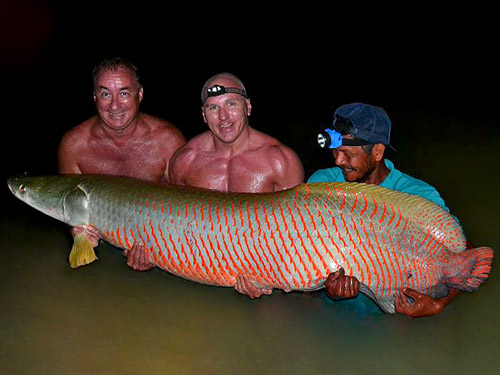 Big fish require strong tackle, so heavy duty Shimano Baitrunner reels
loaded with strong line with matched rods are provided. Rod pods
equipped with bite alarm indicators are provided and each swim has its
own private fishing sala, custom designed for fishing comfort and
protection from the sun and rain. Each sala is fitted with a fan.
Anglers wishing to bring their own equipment should check with us first
for suitability.
There is a modern western standard restaurant onsite serving delicious
popular Thai and western meals and snacks. Free cool boxes filled with
ice are available for you to stock up with cold drinks to take to your
swim. It's important to stay well hydrated when you're fighting big fish!
Please note, no food or drinks from outside are allowed.
Free wi–fi is available in the restaurant and areas close by.
The standard fishing package is 1 predator Rod and 1 Carp / non-
predator rod per angler.

The fishing time is 8.00am – 19.00 pm.

2 kilos of fish baits and 1 bucket of pellets are included. Pellets can be
exchanged for other baits of a similar value if the angler prefers.

Optional additional bait costs are as follows:
Fish baits ; 60 thb per kilo, Pellets 150 thb per kilo, Maize 30 thb per
kilo, ground bait 250 baht per bowl.

Extra Carp / non–predator rod 1,000 thb per day including bait.
Extra Predator rod 2,000 thb per day including bait.
Maximum number of rods per angler is 3. No rod sharing is allowed.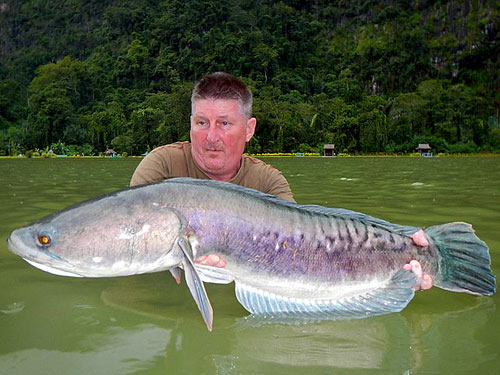 Fishing Packages:
All fishing packages include transport to and from your hotel, fishing
guide, bait pack, 1 predator Rod and 1 Carp / non–predator rod and a
private fishing hut. Full day fishing times 8.00 am – 7.00 pm.
There is a travel surcharge on the below prices for clients staying in
Khao Lak, Krabi or Ao Nang of 700 thb per car.
Fly–fishing
is priced at 1,000 thb extra per half day on the below prices.
For anglers interested in the fantastic fly–fishing at this lake
Please clink
here
.
| | | | | |
| --- | --- | --- | --- | --- |
| Price per angler | 1 angler | 2 anglers | 3 anglers | 4 or more anglers |
| ½ day 8am–12.30pm | 6,000 thb | 5,300 thb | 5,000 thb | 4,700 thb |
| ½ day 1pm–7pm | 7,500 thb | 6,300 thb | 6,000 thb | 5,700 thb |
| 1 day | 8,500 thb | 7,300 thb | 7,000 thb | 6,700 thb |
| 2 days | 17,200 thb | 15,800 thb | 15,500 thb | 14,600 thb |
| 3 days | 26,400 thb | 24,300 thb | 23,400 thb | 22,500 thb |
| 4 days | 35,600 thb | 32,800 thb | 31,600 thb | 30,400 thb |
| 5 days | 44,800 thb | 41,300 thb | 39,800 thb | 38,300 thb |
Special family offer!
2,000 thb per day discount for fathers sharing the
same swim with their sons (under 16 years of age). Larger swims with
bigger fishing huts are available.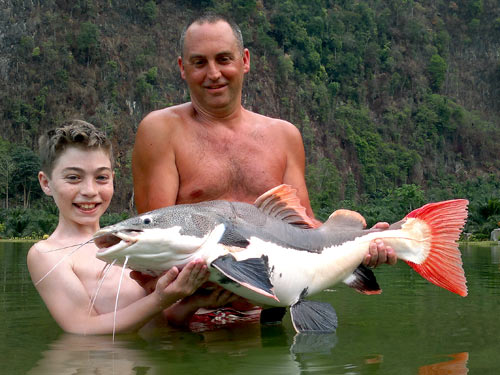 Multi-day prices include hotel accommodation and hotel transfers.
The hotel is a 10 minute drive to the lake and is of a 3 star standard.
Rooms are clean; have air-conditioning, TV, hot water shower and
refrigerator. WI/FI is available.
If you wish to stay in hotel of a different standard but that is still close to
the lake, you are welcome to book the hotel yourself and the above
prices adjusted. Let us know your hotel requirements and budget, and we
can advise on conveniently located hotels to suit your needs.
We can pick you up from Phuket, Khao Lak, Krabi or Ao Nang.
Pickups also available from Phuket and Krabi Airports.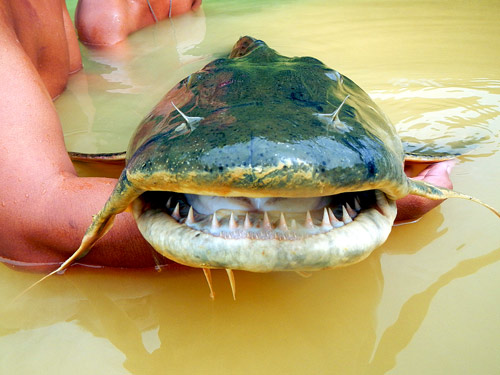 You can keep up to date with what is being caught at Exotic Fishing Thailand
by clicking here, to read the latest catch results.

---
We are looking forward to seeing you, so until then,
Tight Lines!
Book Now | Freshwater Destinations | Go to Top
E–mail Us | Site Map | About Us