Jungle Fly–Fishing in the streams and rivers of Cheow Lan Lake.
Khao Sok National Park.
"Freshwater Jungle Fly–Fishing in Paradise".
(September through July).
Please call us, we speak English! +66 (0) 87275 6074
The best natural freshwater fly–fishing in Thailand is located in the crystal clear
rivers and streams in the jungles of Cheow Lan Lake, and is available to anglers
staying at either Phuket, Khao Lak or Krabi.

These rivers are in a protected area that is in a very remote, yet accessible area
in Khao Sok National Park Thailand. The remoteness of the fishing offers itself a
natural protection for this fish filled fly–fishing paradise.
These rivers are teeming with fish and very high catch rates are very common.
20+ Mahseer per angler per day is a regular catch!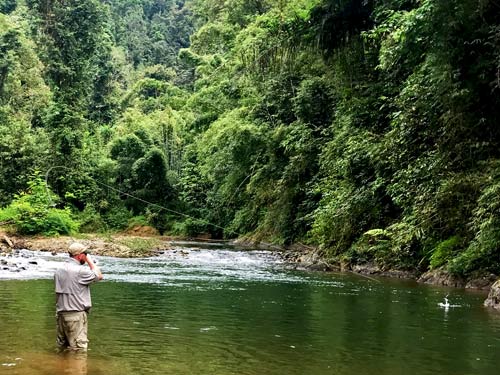 Unfortunately apart from the commercial freshwater fisheries that offer fly–
fishing there are not many other natural areas to target fish on the fly in Thailand.

The wild Mahseer in Thailand that we target on this fishing trip are mainly 2
species:

Thai Mahseer, Tor Tambroides, local Thai name Pla Wien.

Blue Mahseer, Neolissochilus Stracheyi, local Thai name Pla Ping.
Both these species are very abundant in the rivers and can often be found
together. They are incredibly spooky and itís imperative that you cast your fly
to them without revealing your presence. Often just a short roll cast is all that
is required and if your fly hits the water without spooking them then usually
this will result in an instantaneous strike. These fish are usually in schools so
they are competing with each other for food. So a well presented fly cast under
an overhanging tree or vegetation is often irresistible to a hungry Mahseer.
Large dry flies or nymphs work best and small streamers like Wooly Buggers
can work well to provoke strikes from the larger fish, especially in fast water.
Cicada Patterns or even small popper flies are a very exciting way to take fish
from the surface. These fish fight incredibly hard for their size, with power and
stamina to burn not to mention the dirty fighting tactics. A good size Mahseer
caught on fly is a fish well earned!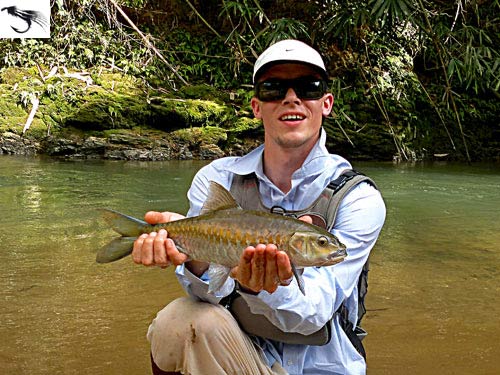 Mahseer love to inhabit slower water close to rapids, deep pools, eddies,
shallow glides, hide behind rocks, but especially beneath overhanging
vegetation where they wait for food items which are usually insects although
can even be fruit to drop into the water.
When the first big rains come after the dry season, usually between early May
and mid–June, the breeding season begins. If you time your trip to coincide
with this the results can be incredible! In this situation the fish are all mainly in
the lower reaches of the rivers where they enter the main lake and you donít
have to walk far to find the fish!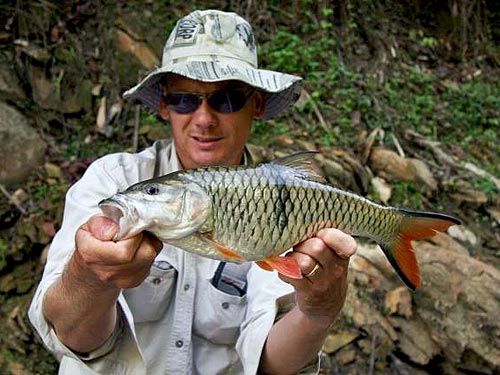 Other common species that we often catch on this trip are:

Hampala Barb, Hampala Macrolepidota, local Thai name, Pla Gassup.

Giant Snakehead, Channa Micropeltes, local Thai name, Pla Shado

Striped Snakehead, Channa Striata, local Thai name, Pla Chon.

Blotched Snakehead, Channa Lucius, local Thai name, Pla Car Sung.

Cobra Snakehead, Channa Marulius, local Thai name, Pla Chon Gnoo How.

Schwanenfeld's Barb, Barbonymus Schwanenfeldii, local Thai name,
Pla Tapien Hang Daeng.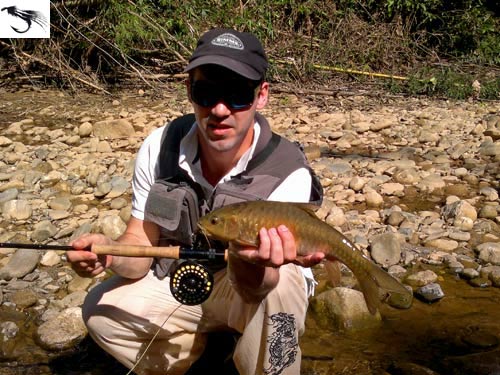 All in all this is a must do trip for the adventurous fly fisherman travelling to
Thailand. The fishing is very similar to fly fishing for wild Brown Trout, but in
warm water in a truly magnificent unspoilt environment.
What to bring:.

Suitable comfortable footwear as described below and some long thick socks.

Long sleeve shirt

Hat

Polorised sunglasses

Towel

Sunscreen

Camera (preferably waterproof)

Torch

Lightweight Rain Jacket

5–8 weight fly equipment with floating line.

Fly selection consisting of dries, cicada patterns, nymphs, small streamers,
poppers and any others you would like to try. Please contact us near the time
of your trip for an undate on the most productive flies.
Fly fishing equipment can be provided if required.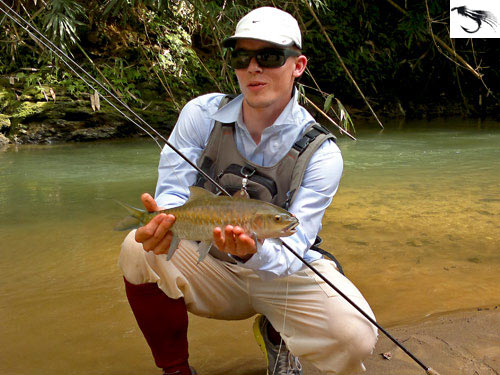 I recommend wearing green camouflage clothing to blend in with the jungle
and wading boots rather than waders with a good grip. Felt soles work best
and grip well on the rocks. Alternatively an old pair of trainers would suffice.
You will be stepping onto lots of small rocks, so thick soles are important to
avoid sore feet.

Ideally you should be reasonably fit, in good health and physically capable of
walking and wading several kilometres per day.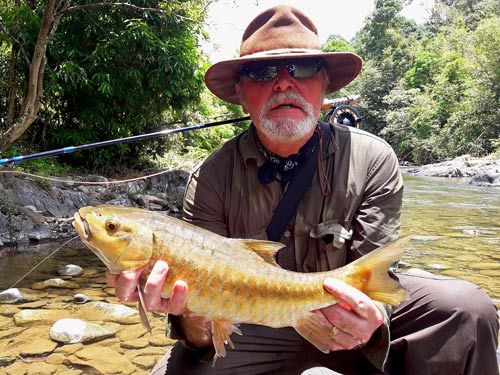 All fishing trips include:
Roundtrip transport from Phuket, Krabi or Khao Lak.
Boat rental, bungalow accommodation,
all food, drinking water, coffee, tea and fresh fruit.
Full guide assistance.
Fly fishing equipment can be provided if required.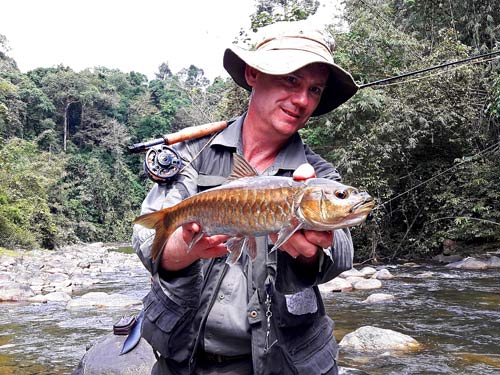 Should you wish to have more fishing days or other changes please let us know,
and we will do our best to arrange the perfect trip for you.
Please note we recommend 3–4 days for this trip, so we can fish as many of
the rivers and streams as possible. It is also possible to combine lure fishing in
the main lake for Snakehead along with the fly–fishing at no extra cost.
Total price listed below:
| | | | |
| --- | --- | --- | --- |
| | | | |
| 2 days: | 19.000 THB | 23.000 THB | 25.000 THB |
| 3 days: | 28.000 THB | 30,500 THB | 32.500 THB |
| 4 days: | 36.500 THB | 38.500 THB | 41.500 THB |
For more information about Cheow Lan Lake please click
here
to read all the
information about Khao Sok National Park and its wildlife.
---
Fishing Khao Lak recommends these hotels for this destination ––>

We are looking forward to seeing you, so until then,
Tight Lines!
Book Now | Fly–Fishing Destinations | Go to Top
E–mail Us | Site Map | About Us