Fishing in Cheow Lan Lake.
Khao Sok.
"Freshwater fishing in Paradise".
(Year round).
Please call us, we speak English! +66 (0) 87275 6074
For
Fly-Fishing
at Cheow Lan please click
here
.
Fishing Khao Lak can now offer freshwater fishing adventures at Thailand's most
beautiful lake. Cheow Lan Lake is located inside Khao Sok National Park.
approximately 2 hour's drive from both Phuket and Khao Lak This man-made lake is
surrounded by mountains of over 1000 meters and dense rainforest with amazing
wildlife, bird life, flora, waterfalls, wild elephants, otters, monkeys, water buffalos
bears, leopards and nothing less then the worlds largest flower (Rafflesia; that reaches
over 80 cm in diameter). These only a few of the unique things that can be experienced
in this small piece of Paradise.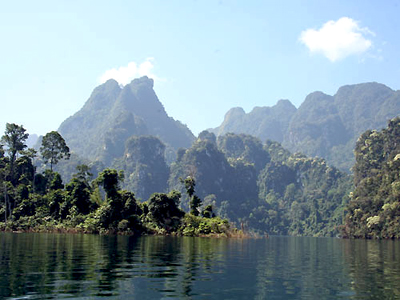 In the middle of all this beauty, Cheow Lan Lake of over160 square kilometers, offers
some fantastic sport fishing action. The lake was made by flooding a large valley, and
has a depth in some areas of more than 100 meters. The trees submerged in this lake,
have created great habitat and structure for a large fish population Big Toman (Giant
Snakehead) Featherback, Rohu and Hampala Barb are abundant and these ferocious
fighters will test any angler's skills.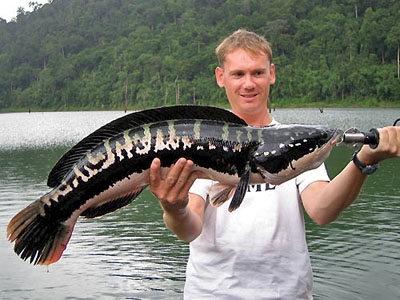 We fish in an area no other western anglers fish that is protected by a non commercial,
fishing policy, which in Thailand is very rare indeed! We penetrate as far as you can
go into the jungle along the numerous rivers, in search of our main target species
Giant and Striped Snakehead, Hampala Barb (also known as Jungle Perch),
Thai Mahseer, River Catfish and also the very rare Cobra Snakehead.
Please click on the name of a fish to view a photo gallery of specimens we have caught.
This is also one of the only places where you can get the opportunity to see Giant
Mekong Catfish in the wild in Thailand.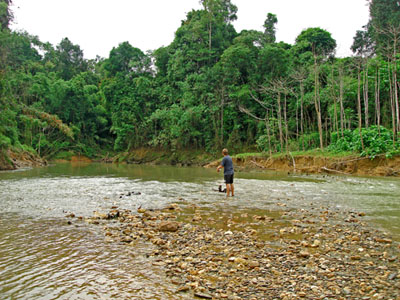 When the conditions are suitable we venture out of the boat and walk along the river
banks to reach the fish in places inaccessible by boat. This gives us the best chance to
catch large Hampala Barb, and also the very wary Thai Mahseer in shallow water.
The jungle base camp consists of basic floating raft houses made from locally
obtained sustainable materials that blend in with the environment.
There is no TV or air-conditioning, and this fishing experience is targeted at
adventurous anglers who are looking for the REAL jungle experience and are
prepared to do without luxury home comforts for a few days!
The beauty of the location at the base camp has to be seen to be believed, and waking
up at dawn with the sounds of the jungle around you and the eerie cries from the
Gibbons is an experience that will touch your very soul !
---
After the days fishing, its time for a great meal, and to relax in the unique atmosphere
of the jungle at night. Even considering the remote location, the food is excellent,
with a variety of authentic Thai dishes made to suit western palates, and there is
always more than enough to go around to say the least!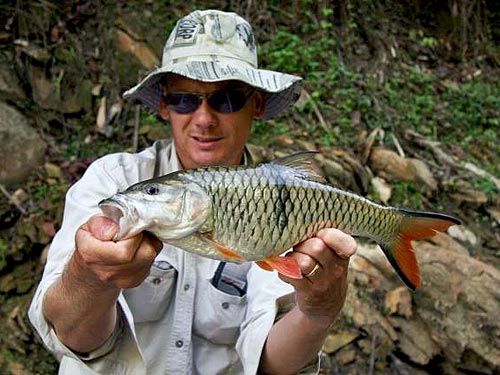 If we catch a decent sized table fish, the chef is always happy to BBQ it for us.
---
Surprisingly, to say you are in the depths of the jungle, there are very few mosquitoes
around to bother you, and the rooms do have mosquito nets over the beds just incase.
---
Our Thai boat captain was born and bred at Cheow Lan and no one has a greater
knowledge of the local wildlife, vegetation and most importantly where the fish are!
He is adept at spotting animals from great distances that otherwise you would surely
miss. He is very friendly as are all the staff at the base camp.
---
Swimming in the warm crystal clear water, is also a pleasure not to be missed!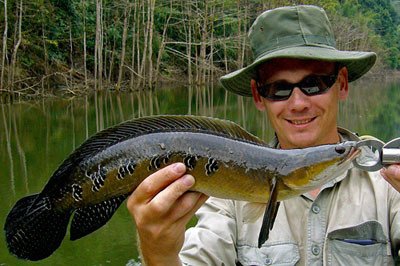 The fishing is challenging, and results can depend greatly on your own casting ability.
Accuracy is very important as the Giant Snakehead invariably likes to habitant snaggy
areas such as over-hanging vegetation, weedy areas, sunken logs and often stays very
close to the bank. They are very territorial and will often strike at anything that goes
near them, but if you can't hit the spot, your number of strikes will be limited.
(There are also other very important things that you need to do in order to get strikes
and to set the hook that will be explained and demonstrated on the trip).
The equipment we use is top brand and balanced for the lures we use. It does not take
long to get used to, and most anglers soon find it easy to cast with it accurately.
---
When you consider other similar fishing trips available to this, you will find not only
that this is the best priced trip available, but is also the most prolific for good sized
Snakeheads and Hampala Barb, in by far the most beautiful location in Thailand!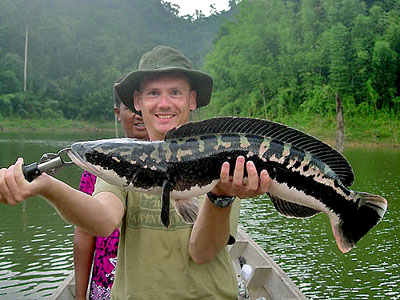 All fishing trips include:
Roundtrip transport from Phuket or Khao Lak.
Boat rental, bungalow accommodation,
all food, drinking water, coffee, tea and fresh fruit.
Full guide assistance, all fishing equipment and bait.
Please bring with you a hat, sun protection, a towel and lightweight rain clothes.
---
Programme:
Day 1:
Pick–up from Phuket or Khao Lak at 08.00 AM.
Transport to Cheow Lan Lake,
where the waiting boat will take you to the base camp.
Arrival at the base camp at 12.00 PM.
Light lunch and the fishing can start.
Return to base camp at 7.00 PM where dinner is served.
Evening relaxing at the base camp.
---
Day 2:
Breakfast at 06.00 AM. and then head out fishing.
Return to base camp at 11.30 AM.
Lunch in the camp, and a few hours to relax.
Departure from base camp at 2.00 PM to your waiting minibus,
that will take you back to Phuket or Khao Lak.
Arrival at your hotel around 5.00 PM.
---
*Please note that the above mentioned program,
is only a suggestion for a trip.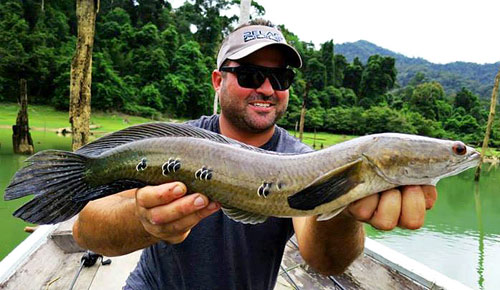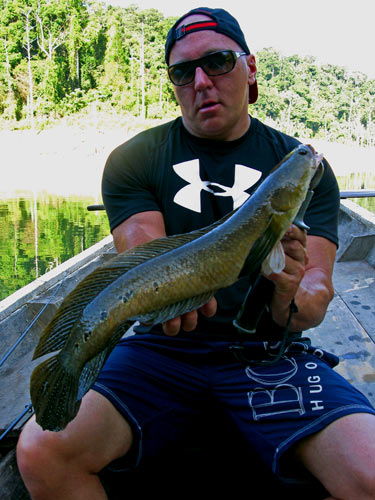 Should you wish to have more fishing days or other changes please let us know,
and we will do our best to arrange the perfect trip for you.
Please note we recommend 3–4 days for this trip, as the area we fish is very large,
and this gives us the extra time needed to explore the best fishing areas.
Total price listed below:
| | | | | | |
| --- | --- | --- | --- | --- | --- |
| | | | | | |
| 2 days: | 17.000 THB | 21.000 THB | 24.000 THB | 34,000 THB | 38.000 THB |
| 3 days: | 25.500 THB | 28,000 THB | 31.000 THB | 47,000 THB | 51.000 THB |
| 4 days: | 33.000 THB | 36.000 THB | 39.000 THB | 61,000 THB | 65.000 THB |
---
Fishing Khao Lak recommends these hotels for this destination ––>

We are looking forward to seeing you, so until then,
Tight Lines!
Book Now | Freshwater Destinations | Go to Top
E–mail Us | Site Map | About Us