Fishing the Twin Seamounts.
Multi–day Safaris.
Our Secret Destination!
"Deep Water Action for Big Fish".
(October through April).

The Twin Seamounts south west of Phuket
are a new destination for Fishing Khao Lak and "Gecko".

No other boat out of Phuket has ever fished this area before.

We troll for Tuna, Dorado, Wahoo, Sailfish and Marlin
on the way out to the seamounts, and reach them by the evening.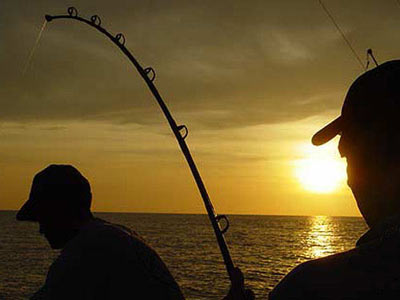 We then anchor on the seamounts that rise from a depth of over 1000 meters,
into two peaks only 67 and 75 meters below the surface.

This huge depth difference causes a natural upwelling of squid,
plankton and other micro organisms that attracts pelagic fish species,
as well as big bottom feeders.

Everything from Ruby Snapper and Groupers, to Wahoo,
Dogtooth Tuna, Yellowfin Tuna and Sharks can be found here.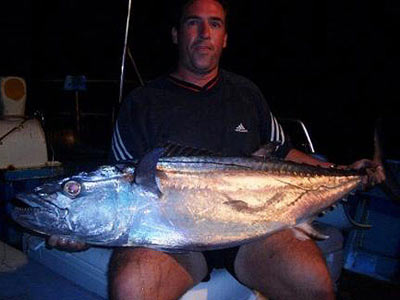 The fishing is done all through the night with baited hooks, in combination
with Tuna chumming that attracts the big predators into the area.

All trolling, jigging and bottom fishing equipment is provided
but you are welcome to bring your own, if you wish to do so.

The current is important when fishing the Twin Seamounts
and the best fishing here is during the half moon phase,
when the water is not running too strong.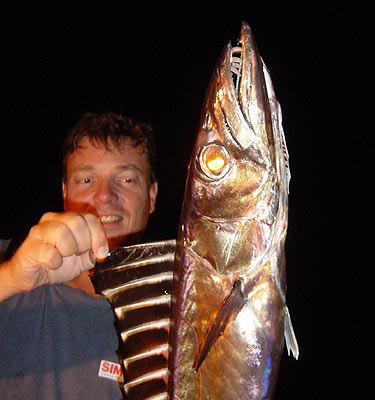 Fishing Khao Lak offer multi–day trips to The Twin Seamounts
from mid October to mid May.

Trips vary from 2 days/1 night to 9 days/8 nights
and are recommended for 4 persons maximum.

All trips include: Pick up from your hotel at 7.00 – 7.30 AM
on the first day, and transfer to "Gecko".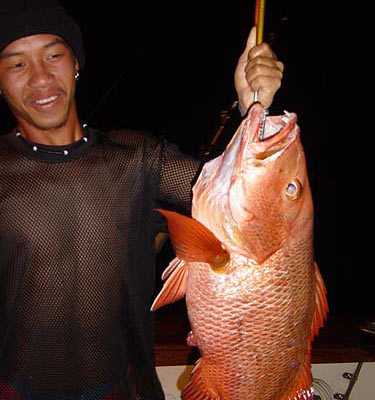 All meals, soft drinks, fruit and snacks, accommodation on the boat,
all fishing tackle, bait, lures and full guide assistance are provided.

Return to the jetty at 5.30 PM on the last day,
where the minibus will take you back to your hotel.

This itinerary can change slightly, as it may be possible on occasions
to depart from, or return to Kata, Karon, Patong or Khao Lak Beaches.
Total price per day for "Gecko" at this destination: 33.000 THB + 7% VAT.
---
Fishing Khao Lak recommends these hotels for this destination ––>

We are looking forward to seeing you, so until then,
Tight Lines!
Book Now | Saltwater Destinations | Go to Top
---
Receive the Destination Updates instantly!

Subscribe to www.fishing–khaolak.com's newsletters
and receive it "straight from our news–desk"
Sign up here
---
E–mail Us | Site Map | About Us