Fishing the Surin Islands.
Multi–day Safaris.
"Popper Casting and Sailfish Action on the Burmese Border".
(October through April).

The Surin Islands are a marine national park consisting of two islands,
located 50 miles north of the Similan Islands.

They have been known for years for the fantastic diving and snorkeling,
but only within the last few years, have sportfishing boats
started visiting these waters on a regular basis.

The area around these islands is extremely good for popper casting
for Giant Trevally, and the area between the Surin– and Similan Islands
is a known "hot spot" for Black Marlin,
Wahoo, Dorado and smaller Tuna.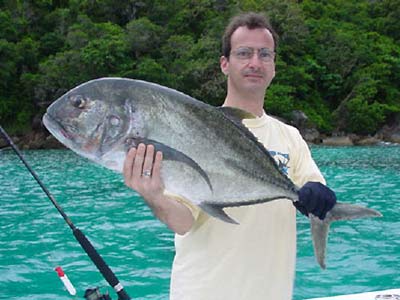 In the early mornings and late afternoons
the area west of the Surin Islands is well worth a try.

This area often produces multiple hook–ups with Sailfish,
and it is therefore also possible to target Sailfish
on fly–fishing equipment, at this destination.
<< Recommended Sailfish flies >>
Please note that fly–fishing equipment is not provided
and you should therefore bring along your own equipment and flies.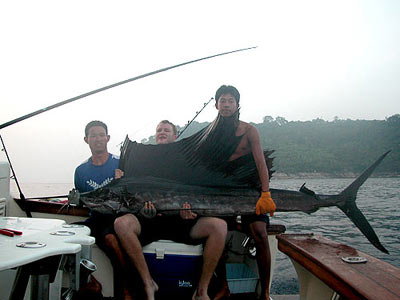 Another possibility while on a 5 day/4 night trip or longer to this destination,
is the 1000–2000 meter drop–off west of the islands.

This area is an overnight trip from the Surin Islands,
but well worth trying.

We have had some very big Black and Blue Marlin hitting our lures
whilst doing the crossing to the Andaman Islands, and deep jigging
and trolling here has produced very big Dogtooth Tuna during the last season.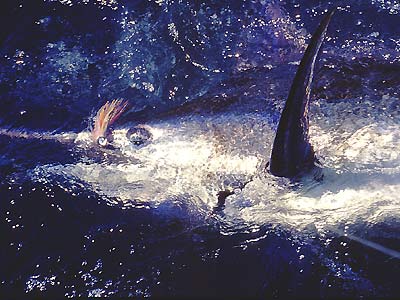 Fishing Khao Lak offer multi–day trips to the Surin Islands
during the months of November through April.

Trips vary from 4 days/3 night to 6 days/5 nights
and are recommended for 4 persons maximum.

All trips include: Pick up from your hotel at 7.00 – 7.30 AM
on the first day, and transfer to "Gecko".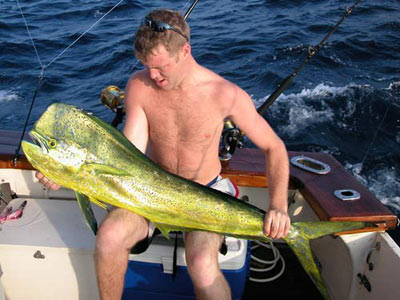 All meals, soft drinks, fruit and snacks, accommodation on the boat,
all fishing tackle, bait, lures and full guide assistance are provided.

Return to the jetty at 5.30 PM on the last day,
where the minibus will take you back to your hotel.

This itinerary can change slightly, as it may be possible on occasions
to depart from, or return to Kata, Karon, Patong or Khao Lak Beaches.
Total price per day for "Gecko" at this destination: 33.000 THB + 7% VAT.
---
Fishing Khao Lak recommends these hotels for this destination ––>

We are looking forward to seeing you, so until then,
Tight Lines!
Book Now | Saltwater Destinations | Go to Top
---
Receive the Destination Updates instantly!

Subscribe to www.fishing–khaolak.com's newsletters
and receive it "straight from our news–desk"
Sign up here
---
E–mail Us | Site Map | About Us