Fishing the Islands.
Multi–day Safaris.
"Multi Species Action in the Andaman Sea".
(October through April).
Please call us, we speak English! +66 (0) 87275 6074

The Islands consist of 9 limestone islands which are located 48 miles
north west of Phuket's west coast. The islands are a designated Marine
National Park and fishing is banned within 3 miles of the shoreline. Anglers
were not happy when the ban was first introduced, but it is actually good
news for both anglers and the fish. The ban provides game fish species with a
superb "nursery" area. The fry and juveniles thrive in a protected
environment and ultimately provide anglers with great sport when they take
to the open sea.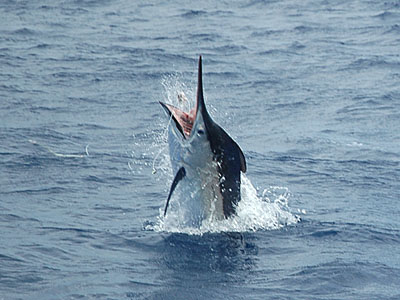 This destination is ranked as one of the top ten diving spots in the world, and
also offers tremendous fishing for many of the species in the Andaman Sea.
The Islands are home to: Black Marlin, Sailfish, Wahoo, Narrow–
Barred Spanish Mackerel, Barracuda, Giant Trevally, Blue Finned Trevally,
Dorado, Queen Fish, Cobia, Rainbow Runner, several species of Tuna and
also various species of Shark.
Please click on the name of a fish to view a photo gallery of specimens we have caught.
---
The Black Marlin fishing around the "Thon Mai" twin seamounts in an area 13-
miles west of the Islands that rises from 250 meters depth to 70 and
90 meters respective is at its best from September through March. These
impressive seamounts also offer fantastic action with Dorado, Giant Trevally,
Rainbow Runners, Wahoo and Yellowfin Tuna. When the weather is good
fishing at night is usually productive for Amberjack, Giant Trevally, Snappers,
Barracuda, Barracouta, Groupers, Dogtooth Tuna and big Sharks.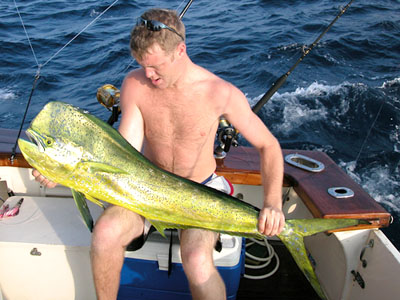 Trolling for Black Marlin can be very productive along the drop off 6 miles
west of the Islands and also in deep water around the seamounts.
Last season 7 big F.A.D.s (fish aggregating devices) were permanently
put on top of the seamounts and we have had very fast trolling action close
to them for: Dorado, Wahoo, Rainbow Runners, Yellowfin and Skipjack Tuna.
These F.A.D.s also attract Sailfish and Marlin and so far we have hooked
many big Marlin close to the F.A.D.s.
There are approximately another 25 F.A.D.s south and west of the Islands
that we target during a trip. Last season we regularly had very good action
around them. Popper casting, jigging or fly fishing close to them can be great
sport. During the crossing from Phuket we fish the drop off west of Phuket all
the way up to the Islands. The Marlin, Dorado and Wahoo fishing can be
excellent along this drop off.
Please note that fly–fishing equipment is not provided
and you should therefore bring along your own equipment and flies.
---
We have now covered this area for over 20 seasons and guided 1000's of
satisfied anglers to some fantastic fish. We are still genuinely very excited
every time we head out to this highly productive fishing area.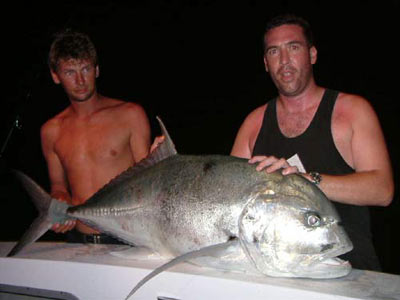 Fishing Khao Lak offer multi–day trips to the Islands during the
months of October through April. Trips vary from 2 days/1 night to 8
days/7 nights and are recommended for 4 anglers maximum.
All meals, soft drinks, fruit and snacks, accommodation on the boat,
all fishing tackle, bait, lures and full guide assistance are provided.
This itinerary can change slightly, as it may be possible on occasions
to depart from, or return to Kata, Karon, Patong or Khao Lak Beach.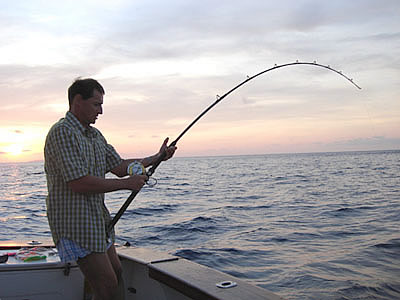 Not included:
Alcoholic beverages and crew gratitude.
International and domestic airfare.

---
What to bring:
Sunglasses, sun crème, fishing hat, fishing shirts, shorts,
towel, camera and a big smile!
---
You can read the latest catch results and fishing news by clicking here.
---
Fishing Khao Lak recommends these hotels for this destination ––>

We are looking forward to seeing you, so until then,
Tight Lines!
Book Now | Saltwater Destinations | Go to Top
---
Receive the Destination Updates instantly!

Subscribe to www.fishing–khaolak.com's newsletters
and receive it "straight from our news–desk"
Sign up here
---
E–mail Us | Site Map | About Us