Fishing the Racha Islands.
Multi–day Safaris.
"Phuket's nearest Hot Spot".
(Year round).
Please call us, we speak English! +66 (0) 87275 6074

Are you one of the many anglers who doesn´t like the idea of going back to shore,
when you could just change fishing techniques and continue fishing?

If so, try a local multi–day trip.

Although the fishing grounds are the same as on an exclusive day charter,
these trips will give you a chance to fish several hot spots in the same day,
or the advantage of spending more time in one specific area.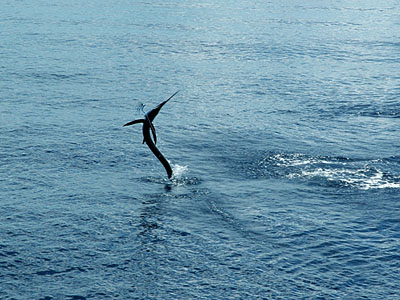 You can decide whether to target Black Marlin, Sailfish, Shark, Giant Trevally,
Wahoo, Narrow–barred Spanish Mackerel, Barracuda, Queenfish, Dorado,
Rainbow Runner, Tuna...etc. using your own techniques,
or you can ask the advice of our experienced crew.

All trolling equipment is provided but you are welcome
to bring your own, if you wish to do so.

It is also possible to spend some time fly–fishing, which can be extremely exciting
for the late afternoon Sailfish, or when the Tuna are in a feeding frenzy!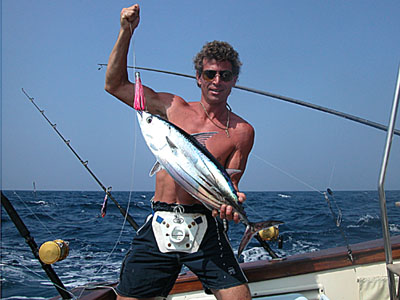 Please note that fly–fishing equipment is not provided
and you should therefore bring along your own equipment and flies.
---
A typical example of a 3 day/2 night trip could be as follows:
Day 1:
Departure from Phuket 8:30 AM. Fish the continental shelf drop–off
for Marlin, Yellowfin Tuna, Wahoo...etc. during the morning, and then
troll Tuna belly strip baits for Sailfish at Racha Yai in the afternoon.
Anchoring between Racha Yai and Racha Noi
to night fish for Sharks and other large predators.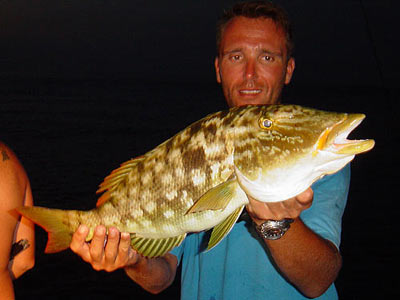 Day 2:
Head out to the continental shelf in the morning.
Troll for Marlin all day and return to Racha Yai or Racha Noi
for light tackle bottom fishing overnight.
---
Day 3:
Troll around the islands for Dorado, Barracuda,
Narrow–barred Spanish Mackerel, Wahoo, Tuna...etc. in the morning.
Popper cast for Giant Trevally and Blue Fin Trevally midday.
Troll with live bait for Sailfish in the afternoon and return to Phuket at 5:00 PM.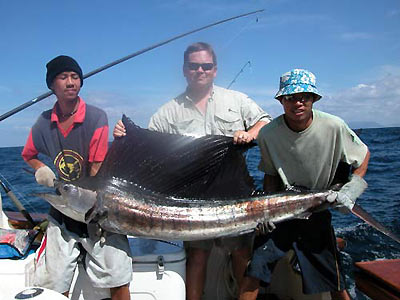 Fishing Khao Lak offer these multi–day trips 12 months of the year.

The trips vary from 2 days/1night to 6 days/5 nights
and are recommended for 4 persons maximum.

All trips include: Pick up from your hotel at 7.00 – 7.30 AM
on the first day, and transfer to the boat.

All meals, soft drinks, fruit and snacks, accommodation on the boat,
all fishing tackle, bait, lures and full guide assistance are provided.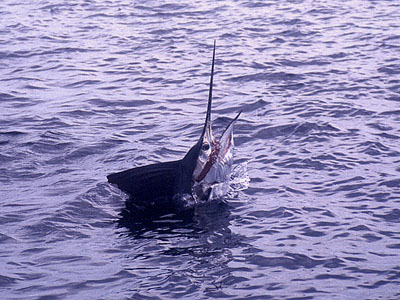 Return to the jetty at 5.30 PM on the last day,
where the minibus will take you back to your hotel.

This itinerary can change slightly, as it may be possible on occasions
to depart from, or return to Kata, Karon, Patong or Khao Lak Beaches.
---
Fishing Khao Lak recommends these hotels for this destination ––>

We are looking forward to seeing you, so until then,
Tight Lines!
Book Now | Saltwater Destinations | Go to Top
---
Receive the Destination Updates instantly!

Subscribe to www.fishing–khaolak.com's newsletters
and receive it "straight from our news–desk"
Sign up here
---
E–mail Us | Site Map | About Us