Fishing in Phuket.
Exclusive Night Shark Fishing.
"Hunting the Ultimate Predator at Night".
(Year round).
Please note that we practice a strict "Catch and Release" policy of all Sharks.

Sorry unavailable until further notice.

Fishing Khao Lak naturally also offers Night Shark Fishing.

The best results are normally to be had on multi–day trips,
but for anglers with a tight time schedule, we also offer one night trips.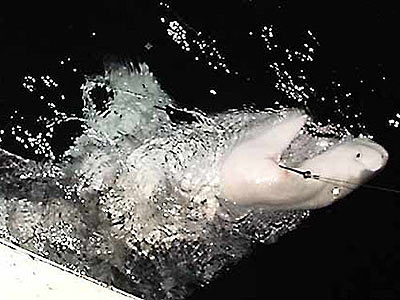 On these charters the primary target is Shark,
but this can often be combined with bottom fishing
for some of the many superb table fish in the Andaman Sea.

The fishing area is usually around Racha Yai and Racha Noi,
but in perfect weather conditions it is also possible
to do drift or anchor over the continental shelf (Drop Off).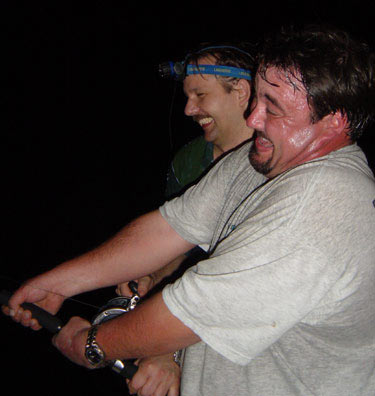 The most common techniques used are fishing from anchor, with live or dead bait.

Like all other fishing techniques, this will not rule out catching other species,
and the current Phuket and Dutch record in Grouper, a massive 87.7 kg fish,
was actually caught on a shark bait while Night Shark Fishing
between Racha Yai and Racha Noi.

Sharks likely to be encountered are Tiger Sharks, Mako Sharks,
Hammerhead Sharks and Bull Sharks.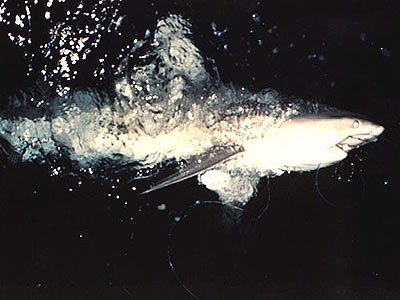 Please note that we practice a strict "Catch and Release" policy of all Sharks.

Species caught on light–tackle are usually Grouper, Mangrove Jack,
Red Emperor and Coral Trout, with the occasional Barracuda,
Dogtooth Tuna, Cobia, Trevally and Sting Ray.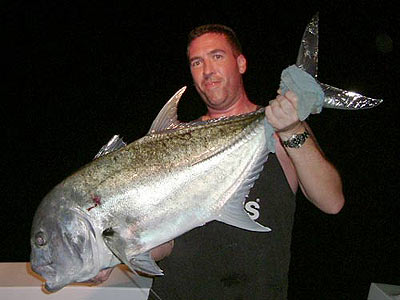 Fishing Khao Lak offer these trips 12 months of the year.

The trips are recommended for 4 persons maximum.

All trips include: Pick up from your hotel at 5.30 – 6.00 PM
and transfer to "Gecko", fruit and snacks, coffee, tea, soft drinks.

All fishing tackle, bait and full guide assistance are provided.

Return to the jetty around 6.30 AM
where the minibus will take you back to your hotel.
Total price for a Night Charter onboard "Gecko": 26.000 THB + 7% VAT.
---
Fishing Khao Lak recommends these hotels for this destination ––>

We are looking forward to seeing you, so until then,
Tight Lines!
Book Now | Saltwater Destinations | Go to Top
---
Receive the Destination Updates instantly!

Subscribe to www.fishing–khaolak.com's newsletters
and receive it "straight from our news–desk"
Sign up here
---
E–mail Us | Site Map | About Us