Fishing at Koh Rok.
Multi–day Safaris.
"Sailfish Capital of Asia".
(Year round).
Please call us, we speak English! +66 (0) 87275 6074

If your dream fish is a Sailfish, this destination is a "must".

Koh Rok, located 56 miles south east of Phuket, consists of 2 islands
and has been mentioned in several sailing magazines
because of its beautiful white beaches, the crystal clear water,
the fantastic reef and excellent shelter for the night.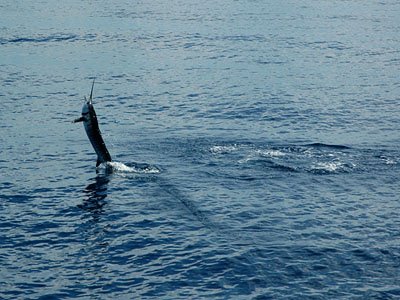 The coral reef on the east side of Koh Rok Nok is superb for snorkeling,
and with a little luck you might catch a lobster for your dinner!

This destination is known from fishing magazines under the name "Longnose Island",
because of the impressive numbers of Sailfish located there.

The local record of 24 Sailfish on one boat in an afternoon says it all.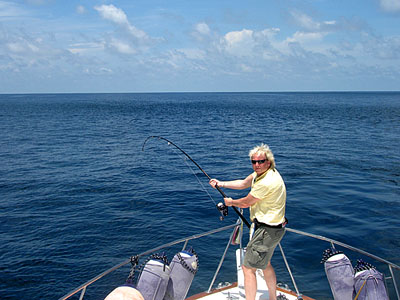 The fact being that the Sailfish in this area aren't very active before afternoon,
so anglers usually target some of the many other species like King Mackerel,
Wahoo, Barracuda, Dorado, Giant Trevally, Rainbow Runner and Tuna in the morning.

In the afternoon the target is Sailfish, and the most common techniques used
are slow trolling with Tuna belly strip bait, or live bait.

For the fly fisherman, this destination is "right up there"
regarding the chance of hooking up with a Sailfish.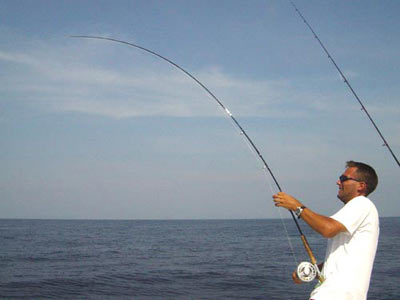 The technique used when targeting Sailfish on fly fishing equipment
is to troll a spread of "Bird Teasers" and "Daisy Chains"
until the Sailfish appears, then to send back the fly to the curious fish.

Please note that fly–fishing equipment is not provided
and you should therefore bring along your own equipment and flies.
<< Recommended Sailfish flies >>
Bottom fishing at night at this destination often provide smaller species of Shark,
including Blacktip Reef Shark, Bull Shark and Nurse Shark,
along with many different species of excellent table fish.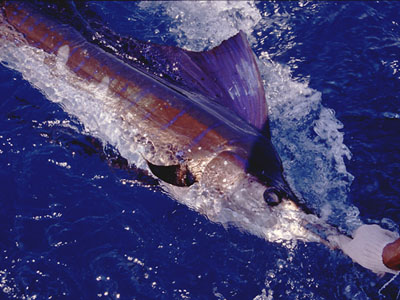 A bonus while fishing this destination is a stop at the island group Koh Ha.

The crystal clear waters of up to 60 meters of visibility lend a fantastic opportunity
to swim, snorkel and view the many species of marine life present there
– yet another way of enjoying what the Andaman Sea has to offer!
---
Fishing Khao Lak offer multi–day trips to Koh Rok 12 months of the year.

Trips vary from 2 days/1 night to 6 days/5 nights
and are recommended for 4 persons maximum.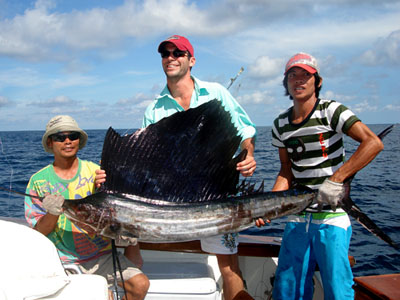 All meals, soft drinks, fruit and snacks, accommodation on the boat,
all fishing tackle, bait, lures and full guide assistance are provided.

This itinerary can change slightly, as it may be possible on occasions
to depart from, or return to Kata, Karon, Patong or Khao Lak Beaches.
---
Fishing Khao Lak recommends these hotels for this destination ––>

We are looking forward to seeing you, so until then,
Tight Lines!
Book Now | Saltwater Destinations | Go to Top
---
Receive the Destination Updates instantly!

Subscribe to www.fishing–khaolak.com's newsletters
and receive it "straight from our news–desk"
Sign up here
---
E–mail Us | Site Map | About Us