Dorado and GT Fishing.
"Low cost fishing from local boats".
(September through July).
Please call us, we speak English! +66 (0) 87275 6074

Fishing Khao Lak now offers low cost Dorado and GT fishing from local boats.
Dorado (Coryphaena Hippurus) are present in off shore tropical waters the
world over and the species is known by different names in different places. The
most common names for these beautiful super powerful sport fish are Dorado,
Mahi Mahi or Dolphin Fish. Mahi Mahi actually means very strong in Hawaiian!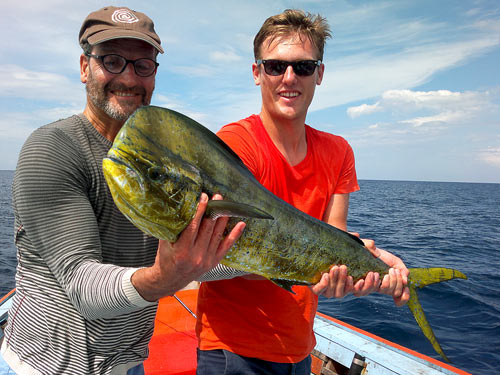 Our fishing grounds are a group of F.A.D.s (Fish Aggregating Device) a few
kilometres out to sea.
An F.A.D. is a floating raft of either bamboo or polystyrene anchored to the sea
bed. This attracts all kinds of marine life working up the food chain from
plankton and small baitfish up to big predators and our main target Dorado.
The F.A.D.s are also hunting grounds for other popular species that we target
such as Giant Trevally, Tuna, Barracuda, Wahoo and Spanish Mackerel.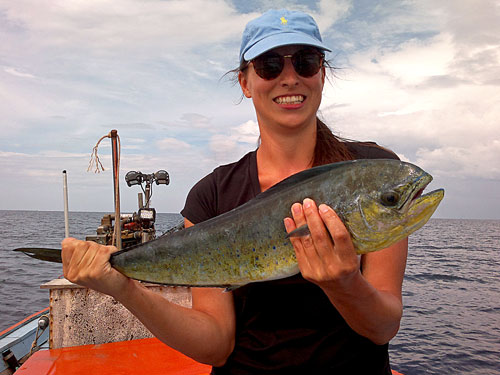 Once hooked, a Dorado will spectacularly jump repeatedly trying to spit the
hook and fights incredibly well on the light tackle. Hooked Dorado are often
followed to the boat by other Dorado so this is a good way of attracting
feeding fish to the boat for the fly or lure fisherman.
Trolling live-bait, dead-bait or squid is the most productive method around the
F.A.D.s, but lure, fly and jigging can all work well.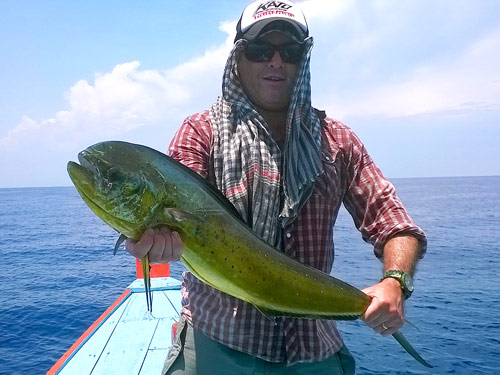 Dorado are an incredibly beautiful fish with their golden flanks, iridescent blue
pectoral fins and diagonal black stripes. However after capture their vivid
colours fade very quickly so be quick to take your photos to capture their true
beauty.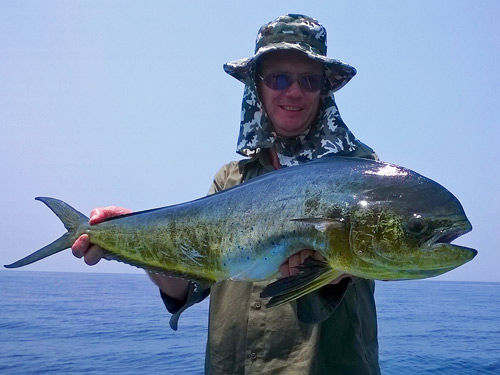 Male Dorado are easy to identify due to their prominent foreheads, females
are more rounded.
Dorado grow very quickly but only live for around 4-5 years, but can attain a
weight of over 25 kilos.
---
Dorado spawns throughout the year and can reproduce from being only 4
months old. This is great news for the angler as stocks keep high throughout
the year. Dorado is a fantastic eating fish and you are welcome to take your
catch for the table. We do however promote catch and release for multiple
large catches.
While trolling to, from or around the FADs we often catch Tuna and Wahoo.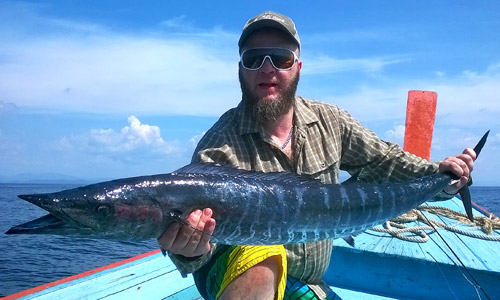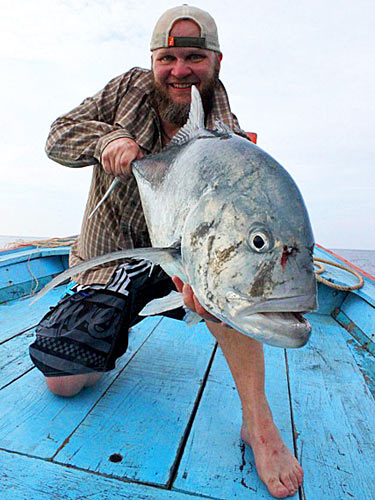 This is not just a Dorado fishing trip, we also target the very sought after super
strong fighting GT or Giant Trevally (Caranx Ignobilis) using poppers. These can
also be targeted on fly but are notoriously difficult due to the large amount of
effort required by the fly fisherman. GTs are not an easy species to catch and
anglers must be prepared to work hard to stand a chance of catching one.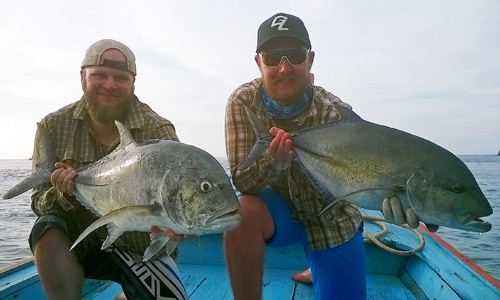 A typical day would start with your hotel pick up and boarding the boat at
around 8.30am.

15 minutes into the trip and we start to fish a shallow rocky reef with poppers,
Rapalas, fly-fishing or soft plastics. Target species are GTs, Barracuda, Tuna etc.
After this we head out to the F.A.D.s trolling lures and Tuna daisy chains. On
arrival we first start to attempt to catch live-bait using a line of feathers for
small Yellowtails or Mackerels. We also carry dead-baits or squid which work
well also for the unlikely event that live-bait is hard to come by.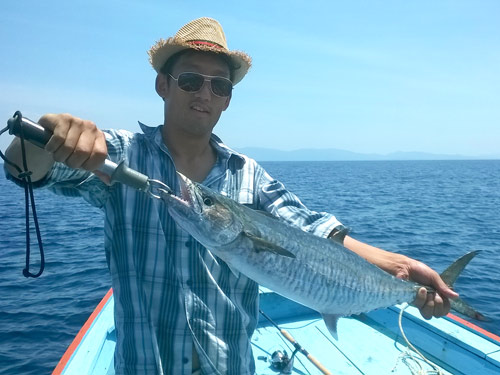 We then troll, jig or lure fish around several F.A.D.s over a large area until late
afternoon and its time to head back for the inshore popper / lure fishing. We
fish a long rocky coastline stretching for around 1.5 kilometres, once again
targeting the inshore species.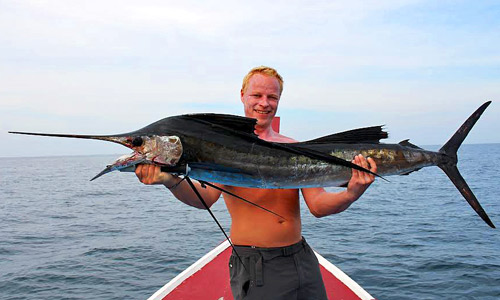 The end of the trip brings us back to where we started from in the shallow
rocky reef area.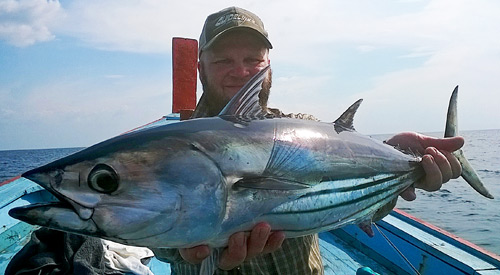 Prices:
1 Angler - 7,000 thb.
2 Anglers - 4,000 thb each.
3 Anglers - 3,000 thb each.
Poppers and jigs are provided for you to use, but you must pay to replace
them if you lose them. Poppers are priced at 450 thb, jigs 250 thb.
What to bring:
Sunglasses, sun crème, fishing hat, fishing shirts, shorts,
towel, light weight rain clothes, camera and a big smile!
---
You can read the latest catch results and fishing news by clicking here.
---
Fishing Khao Lak recommends these hotels for this destination ––>

We are looking forward to seeing you, so until then,
Tight Lines!
Book Now | Saltwater Destinations | Go to Top
---
Receive the Destination Updates instantly!

Subscribe to www.fishing–khaolak.com's newsletters
and receive it "straight from our news–desk"
Sign up here
---
E–mail Us | Site Map | About Us