Fishing the Andaman Islands.
Multi–day Safaris.
"Ultimate Hard Core Game Fishing Action".
(February through April).

South–East Asia's Premier game fishing area!


Please call us, we speak English! +66 (0) 87275 6074
Black
&
Blue Marlin
,
Broadbill Swordfish
,
Sailfish
,
Yellowfin Tuna
monster
Dogtooth Tuna
and XXL size
Giant Trevally
are just some of the big fish available in
this fantastic area. To fish this archipelago is a dream come true for most anglers.
The offshore & inshore fishing and also the bottom fishing at night time around these
islands is simply mind–blowing, and will satisfy the most hard core anglers on the
planet. So if you are looking for non–stop incredible fishing action, this is the place to
be. We pioneered live–aboard fishing trips 8 years ago to this location, and it's by far
the best area we have ever fished! This archipelago of 329 islands belonging
to India located 405 miles North West of Phuket and is an absolute
"Paradise" for game fishing.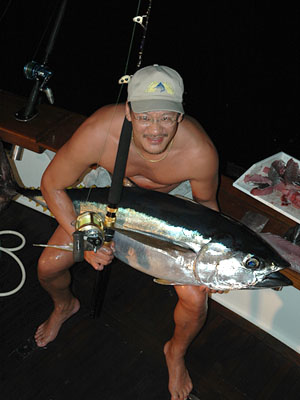 Four different kinds of billfish can be caught around the islands, with Black Marlin
being the most common billfish near the drop–off areas close to the islands. Further
out in the deeper water, very large Blue Marlin have also been caught and released.
The Sailfish we have caught here have all been over 100lbs in size, and scuba divers
have spotted 3 meter long Dogtooth Tuna, (world record size) and monster Giant
Trevally around the Barren and Narcondam Islands.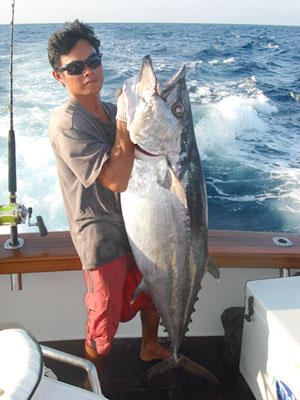 The 1000–2000 meter drop off on the east and the west coasts of the main islands and
around the 2 volcanic islands of Barren and Narcondam, offer world class Marlin
action, with Wahoo, Narrow–Barred Spanish Mackerel, Giant Trevally, Grouper,
Dogtooth and Yellowfin Tuna also available in trophy sizes.
Please click on the name of a fish to view a photo gallery of specimens we have caught.
---
If you like night time shark fishing you have come to the right place! Barren and
Narcondam islands must be the fastest shark fishing action available, during most
nights here we have to stop fishing after a couple of hours because of fatigue from
fighting too many big sharks!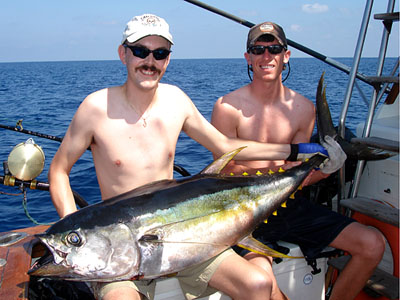 Inshore popper–casting from the front deck of "4Reel" or from our RIB dinghy for Giant
and Blue Fin Trevally, Mangrove Jacks and Coral Trout is excellent, and a very
interesting alternative to the offshore trolling action. Day and night time jigging
for Dogtooth Tuna has also produced some very big fish.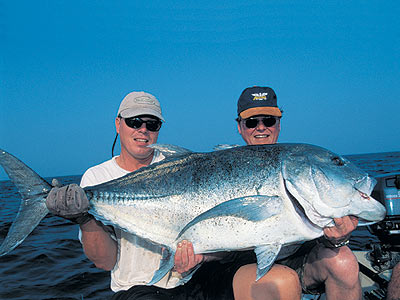 This virgin area has never been destroyed by foreign commercial fishing fleets; we
have been fishing here for weeks without seeing any other vessels. Many of the
islands were forbidden areas a couple of years ago, and some are still closed to the
outside world. Native Indian tribes' people inhabit these islands, and it is for their
protection that these islands are closed. For those interested in fishing in one of the
last pristine untouched environments on earth, this is it...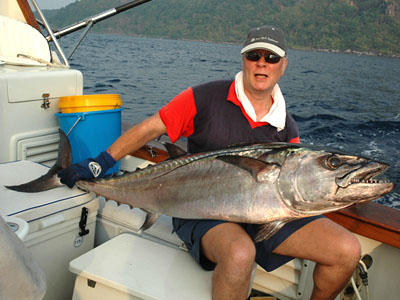 Air Deccan is our recommended airline for the flight to Port Blair (Andaman Island)
from Chennai, mainland India, there are daily flights with this airline and their rates
are lower than the other Indian airlines who service Port Blair. It is also possible to
fly from mainland India via Chennai, New Delhi and Calcutta with Jet Airways
and Indian Airlines.
Having fished Andaman Islands for 8 seasons already, this naturally gives us a very
good idea of where to go, but in an area like this, a life–time is needed to fully explore all
the options. These trips should therefore be considered as a fishing safari for adventurous
anglers, who wish to explore pristine waters that have never seen a lure before.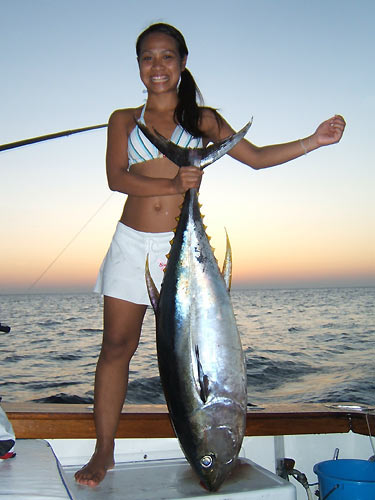 Immigration officials require that you have a tourist visa for India. Fishing Khao Lak
requires a copy, by fax or e–mail, of your visa and passport, one month prior to the
charter. You can apply for the visa at your nearest Indian embassy or consulate.
Our long–range boat "4Reel" is available for multi–day safaris to the Andaman
Islands from February through April. Please note that the minimum amount of time for
a charter is 4 days/3 nights, and maximum 9 days/8 nights. All trips are recommended
for 4 anglers maximum. If you wish to stay in Port Blair or on Havelock Island before
and/or after the fishing charter, we will be happy to arrange your accommodation for you.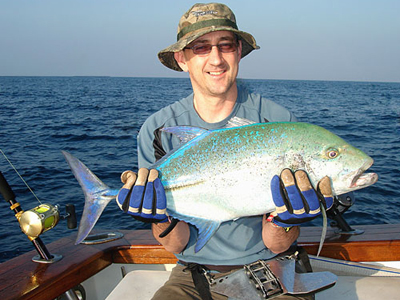 All trips include:
Pick up from Port Blair Airport on the day of your arrival, transfer to the gameboat
(or your hotel). All meals, soft drinks, fruit and snacks, accommodation on the boat,
all fishing tackle, bait, lures and full guide assistance.
Not included:
International and domestic airfare (please contact us for getting the cheapest airfares
between mainland India and Port Blair). Alcoholic beverages and crew gratitude.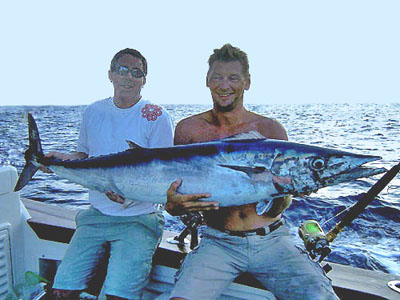 What to bring:

Sunglasses, sun crème, fishing hat, fishing shirts and shorts, towel, camera and a big smile!
---
Andaman Islands fishing reports: http://www.fishing-khaolak.com/reports/index.html

---
Fishing Khao Lak recommends these hotels for this destination ––>

We are looking forward to seeing you, so until then,
Tight Lines!
Book Now | Saltwater Destinations | Go to Top
---
Receive the Destination Updates instantly!

Subscribe to www.fishing–khaolak.com's newsletters
and receive it "straight from our news–desk"
Sign up here
---
E–mail Us | Site Map | About Us