Fishing in Par Lai Lake.
Phuket.
"Phuket's big fish venue".
(Year round).
Please call us, we speak English! +66 (0) 87275 6074

Fishing Khao Lak is now pleased to offer this new
amazing freshwater destination in Phuket –
Par Lai Lake near Chalong.
Set amongst a backdrop of exotic tropical gardens, you can target a large variety
of tough fighting species that include Pacu, Striped Catfish, Giant Gourami,
Striped Snakehead, Tilapia, Indo–Pacific Tarpon and Rohu Carp.
Striped Catfish grow to record–beating sizes here, with specimens well in excess
of the current IGFA world record, regularly being caught.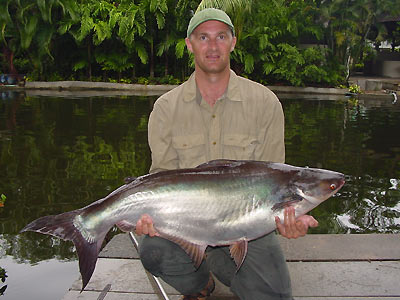 Pacu (a Piranha look–alike) are very common in this lake
and are tremendous fighters that will test any anglers´ skill.
Fish up to 15 kg are present, but the average size is around 5–6 kg.
The equipment used is Shimano one piece rods, matched with
Shimano spinning– or Bait–runner reels.
Our most productive methods are free–lined baits for the more wary species
(Giant Gourami and Striped Catfish) and float– or bottom fished baits
for most other species.
Baitcasting with small spinners or surface lures can also be very productive
for Pacu, Snakehead and Indo–Pacific Tarpon.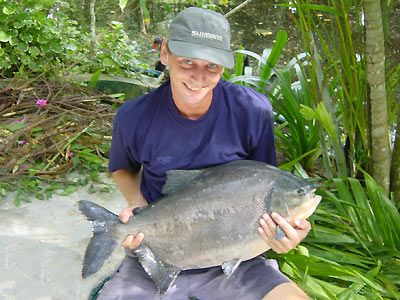 These species can also be targeted with fly fishing equipment.
The most common fly fishing equipment used is a 7 – 8 weight rod
with a matching reel and an intermediate line with a 30 lb shock tippet.
You might think that this is a bit "over–kill" but,
you will have to take our word for it or be prepared to loose a lot of flies!
The most productive flies are fish imitations in green, or green/white with flash.
<< Recommended flies for Par Lai Lake >>
Please note that fly–fishing equipment is not provided
and you should therefore bring along your own equipment and flies.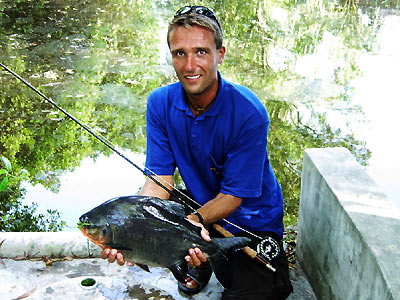 Par Lai Lake has all the facilities needed to make it the perfect day out
for anglers as well as non–fishermen.
Facilities include: Restaurants, snack bar, toilets and even
an aquarium displaying some of the species found in the lake.
---
All fishing trips include:
Round trip transfer between your Phuket hotel
and Par Lai Lake.
Full assistance of a fishing guide.
All fishing equipment and bait.
Unlimited fishing from 8.30 until 18.00.
Lunch.

Not Included:
Soft drinks and alcohol
(these can be purchased very cheaply at the lake).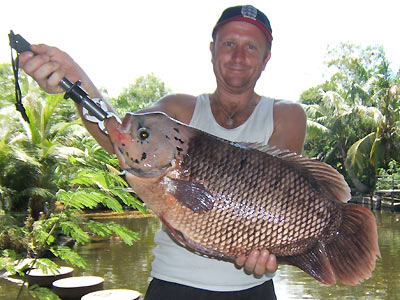 Total price per person:
3,100 THB per day.
Non–fishermen are welcome to join you
for only 600 THB per person.
---
Fishing Khao Lak recommends these hotels for this destination ––>

We are looking forward to seeing you, so until then,
Tight Lines!
Book Now | Freshwater Destinations | Go to Top
E–mail Us | Site Map | About Us