Fishing in Krabi.
Krabi.
"World class fishing in Krabi."
(Year round).
Please call us, we speak English! +66 (0) 87275 6074

If your dream fish is an Arapaima or a Giant Siamese Carp, this lake is without
exception, your best chance of fulfilling your dreams!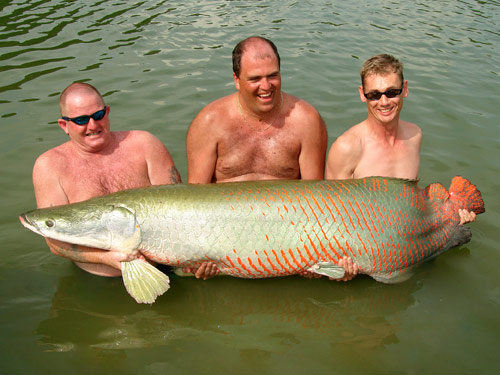 This fantastic lake situated close to Krabi has been designed and is managed by the
well known and respected British angler, Stuart Gillham and his son Sean.
This 9 acre lake is set amongst landscaped gardens with an awesome background
view of jungle covered limestone mountains. This lake is now being correctly
considered as the best big fish venue in Thailand. Years of research went into this lake
before it was created, and the design of the lake including deep channels, plateaus,
shallow areas and also non–fishing areas has made the perfect habitat for the many
different native species, and indigenous fish that are now thriving in the lake.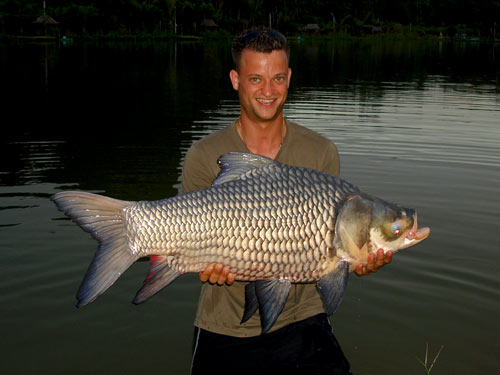 Here is a list of just some of the main species in the lake:
Arapaima 40kg–200kg+
Giant Siamese Carp 6kg–70kg
Amazon Red Tail Catfish 10kg–30kg
Giant Mekong Catfish 40kg–120kg
Julien's Price Carp 10kg–40kg
Black Pacu 12kg–26kg
Giant Catfish up to 50kg
Spotted Featherback up to 8kg
Giant Gourami up to 12 kgs
Freshwater Stingrays up to 80kgs
Wallago Micropogan (black Wallago) up to 25kgs
Giant Snakehead up to 9kgs
Silver and Green Araowana up to 8 kgs
Alligator Gar up to 20 kgs
Tiger Cats Amazon, Redtail Leopards up to 15 kgs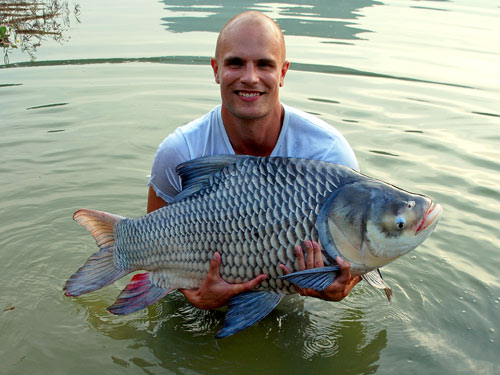 The size and quality of the fish is the result of sensible stocking levels of only
specimen fish, and also more importantly the handling and care of the fish once they
are captured. Strict rules apply concerning the handling of the fish, such as not taking
the fish out of the water, using purpose built net cages for the larger fish such as
Arapaima and Giant Mekong Catfish, and also injecting certain species with a mild
sedative prior to release of the more stress vulnerable Catfish species. All fish are
checked for wounds, and if need be treated before release.
All photographs are to be taken in the water, and the welfare of the fish is paramount.
If you don't mange to get your photograph in time, the fish will be released, so make
sure your camera is set and ready before entering the water. Please take off your
watch and any rings that may cause damage to a fish. No fish will be sacrificed for the
sake of a photograph!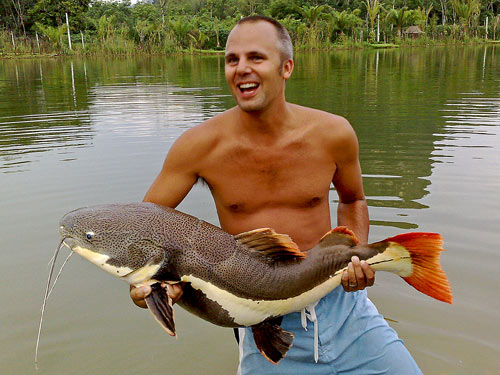 The fishing tackle is all top quality, including terminal tackle. All rigs are fish
friendly; barbless hooks only, and safety rigs so the lead or method feeder falls
free should one of the monster fish manage to break the line.

Fly–fishing or lure fishing is an option you might like to try, but please bring along
your own equipment should you want to try these methods, and remember its barbless
hooks only. A minimum of a 10 weight rod and lines is required to tackle these fish!

The lake is completely snag free, so no need to bully the fish, just let them run and
enjoy the fight without the worry of losing the fish in any obstacles.
In a warm climate like Thailand, fish take longer to recover, so take things easy, you
have less chance of losing a hooked fish and it is less stressful to the fish.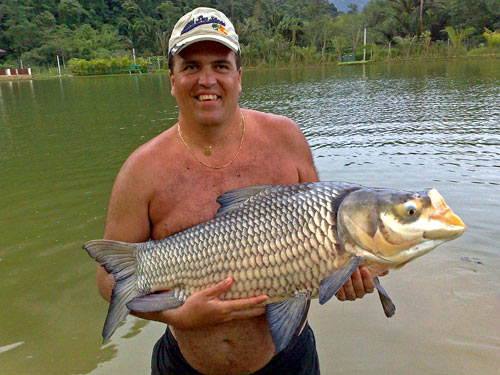 The lake has a filtration system, natural and artificial keeping the water clean. The
water levels can also be controlled should drought or flooding be at risk.

There is a limit to the number of anglers allowed to fish at any one time, making sure
you have a pleasant uncrowded fishing experience, and making sure that the lake
doesn't receive too much angling pressure. The lake is proving to be very popular, so
it's highly important to book your trip as early as possible to avoid disappointment,
especially during the high season period between November and April.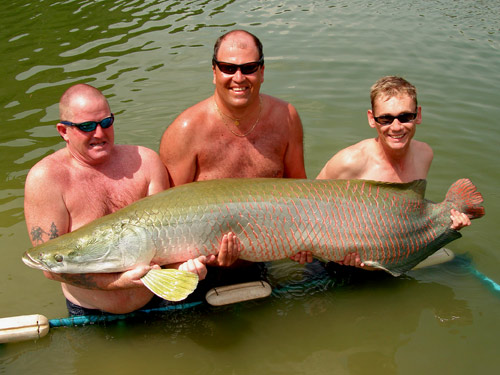 We recommend a multi–day trip to fully appreciate the fishing this fantastic lake has
to offer. This is not usually a high catch venue like some of the other lakes in
Thailand; here in Krabi it is more about quality rather than quantity. However, having
said that, you have a very high chance of catching a really special fish. (Some days
lots of fish!). The lake holds many fish much higher than current world record size,
and also has the photographic evidence to back this up!


Accommodation at the lake is in resort standard bungalows with everything you
would expect, air-conditioning, ceiling fan, hot water, T.V. and mini bar.
For anglers and families staying in the bungalows, a luxury 7 x 15 meter swimming
pool in private gardens is available. On site is a restaurant with an English and also a
Thai chef cooking your favorite dishes. After fishing you can relax in the bar that
overlooks the lake, where can watch the lake and decide your fishing plans for the
next day, have a game of pool or stay up to date with the sport on the satellite T.V.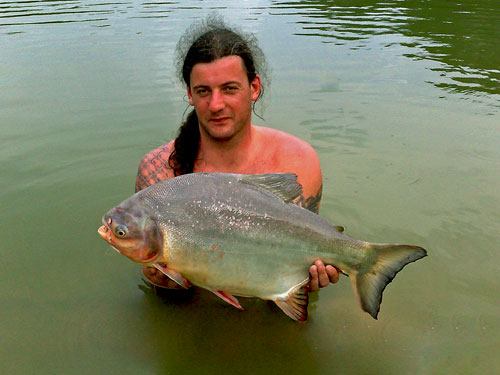 In addition to the above mentioned rules, there is a list of rules that you must read,
understand and sign prior to your days fishing. This is for your own personal safety,
and also the safety of the fish. These are very large powerful fish that can inflict
serious injury of even death, so it is imperative that you follow the rules and listen to
the advice of the fishing guide who will be present at all times. If you don't agree or
want to abide by the rules, please do not come to fish in Krabi. Any angler who
breaks the rules will be told in no uncertain circumstances to leave immediately with
no reimbursement. The management accepts no responsibility for your personal safety
whilst fishing at the lake, and anglers entering the water for a photograph do so at
their own risk. So far these rules have proved a success and nobody has been injured
whist being photographed.
---

Predator and all species package:
Day trip price: 1 angler 8,700 THB.
More than 1 angler, 7,900 THB per person.
Multi–day prices including fishing, accommodation and breakfast are available on
request. The longer you stay, the less you pay!
All trips include transport to and from your hotel or Phuket International Airport.
All fishing equipment and bait, including 2 x rods and reels with alarms.
English speaking fishing guide present at all times.
Please bring with you swimming shorts, a hat, sun protection, and a towel.
---
Non–fishermen are welcome to join you
completley free of charge, if there is enough room in the car.
---
Fishing Khao Lak recommends these hotels for this destination ––>

We are looking forward to seeing you, so until then,
Tight Lines!
Book Now | Freshwater Destinations | Go to Top
E–mail Us | Site Map | About Us