Jurassic Fishing Park.

"High Catch Rate Carp Fishing."

"Top Class Fishing resort for Carp and Arapaima"

(Year round fishing).
Please call us, we speak English! +66 (0) 87275 6074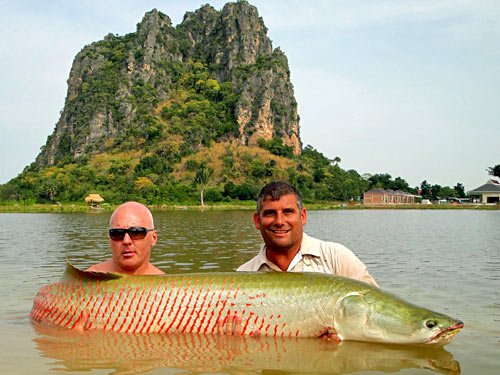 Jurassic Fishing Park and Resort is a brand new purpose built freshwater
fishing lake located in the Cha Am area of Thailand, ideally located for
anglers fishing Bangkok or Hua Hin. This medium sized lake is set in a
picturesque area surrounded by rice paddy fields with impressive limestone
mountain karsts as a stunning background. The lake depth is 1–4 meters
deep; the number of fish in the lake exceeds 5000 fishes. The lake is only a
few kilometres from the beach, so on most days there is a light fresh sea
breeze blowing across the lake to keep things nice and cool.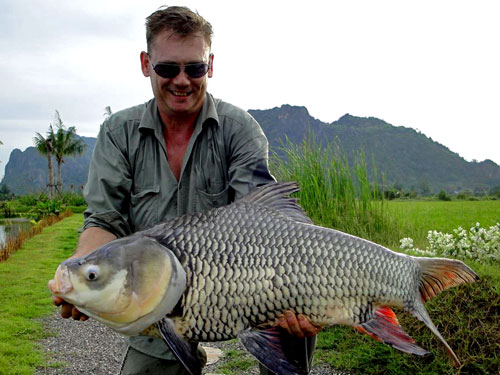 This Thai fishing lake is aimed at anglers interested in Carp fishing and also
predator fisherman targeting large Arapaima, Amazon Redtail Catfish,
Alligator Gar, Pacu and Giant Snakehead. For the carp or non–predator
angler, the lake is highly stocked with Giant Siamese Carp, Indian Siamese
Carp otherwise known as Cutla Cutla, Rohu, Common Carp, Giant Gourami
and some massive Giant Mekong Catfish. Jurassic Fishing Park now
regularly accounts for the highest catch rate of carp in Thailand. Carp are
currently stocked to 30 kilo+ and are growing very quickly.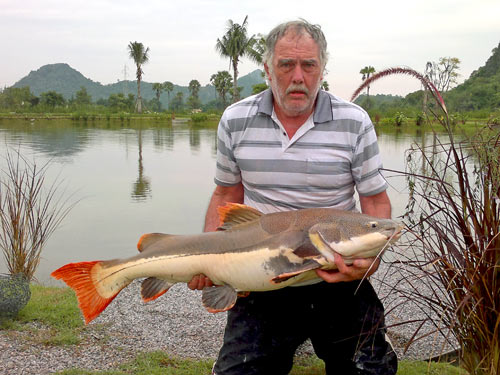 The largest inhabitants of the lake are Arapaima which are currently stocked
to 120 kilo+, and Giant Mekong Catfish which are currently stocked to 90
kilo+! Both these species are putting weight on rapidly due to the ideal water
conditions, high quality feed and large amount of bait fish available for
the predators.
---
The full predator / non–predator fishing package includes 1 predator fishing
set up and one carp fishing / non–predator setup that are European standard
Carp / Catfish rods fitted with Shimano Baitrunners, rod pod and bite alarms.

For anglers only wanting Carp / non–predator fishing, they are supplied with
2 Carp / Catfish rod setups fitted with Shimano Baitrunners, equipped with
European standard rod pod and bite alarms.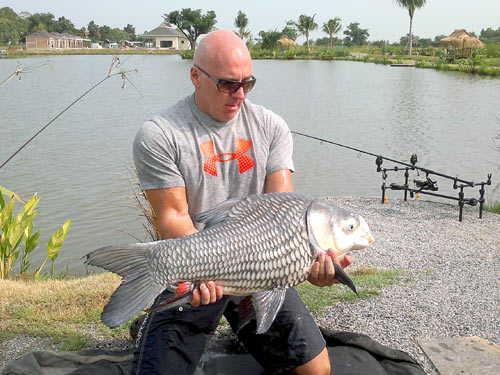 The lake is surrounded by well maintained, beautiful tropical gardens,
creating a peaceful ambience. Each swim has its own private bamboo sala or
fishing hut providing plenty of shade, set in a comfortable position for the
fisherman to sit back and relax, waiting for the next screaming reel! The
number of anglers is limited each day, and the swims are well spaced out, so
the lake is never over crowded.
Food and drinks can be delivered to your swim so you donít have to waste a
moments fishing time. Onsite facilities include high standard showers,
toilets, restaurant–bar, club house and coming soon a swimming pool.
---
We offer anglers wishing to fish at Jurassic Fishing Park 2 different options
to suit their requirements and budgets. We can pick you up from Bangkok,
Hua Hin or Cha Am.
Non–Predator fishing packages using 2 fishing rods:
Bangkok:
Hua Hin :
Cha Am :
1 Angler
7,500 THB.
5,700 THB
5,000 THB
2 Anglers+
6,000 THB each.
5,100 THB each.
4,750 THB each.
Predator and Carp packages using 1 predator rod and 1 carp rod:
Bangkok:
Hua Hin :
Cha Am :
1 Angler
9,700 THB.
7,900 THB
7,200 THB
2 Anglers+
8,200 THB each.
7,300 THB each.
6,950 THB each.
Included:

Transport to and from your hotel and the lake.
Fishing guide.
Quality fishing equipment.
A large amount of bait.
Ice box and plenty of drinking water.


Non–fishermen are welcome to join you
at the lake free of charge if there is room in the car.
---
You can keep up to date with what is being caught at Jurassic Fishing Park
by clicking here, to read the latest catch results.
---
Fishing Khao Lak recommends these hotels for this destination ––>

We are looking forward to seeing you, so until then,
Tight Lines!
Book Now | Freshwater Destinations | Go to Top
E–mail Us | Site Map | About Us