John Wilson's Lake.
Bung Sawan.
"Fish with John and David Wilson at their beautiful Lake."
(Year round).
Please call us, we speak English! +66 (0) 87275 6074
Legendary British angler, the star and pioneer of TV fishing programmes like
Go Fishing, John Wilson MBE has now created a wonderfully idyllic freshwater
fishing lake called Bung Sawan which translates in English as ĎLake Gardení and
is now open for visiting anglers to Thailand.
Lake Garden perfectly describes this private beautiful 4 acre lake set in
stunning gardens in John and his brother Davidís estate. John and David are
very welcoming and you will feel like you have known them for years thanks to
their laid back friendly personalities. The lake only allows a maximum of 5
anglers per day to fish, so there is lots of space and very little fishing pressure
making it a constantly prolific and peaceful fishing experience.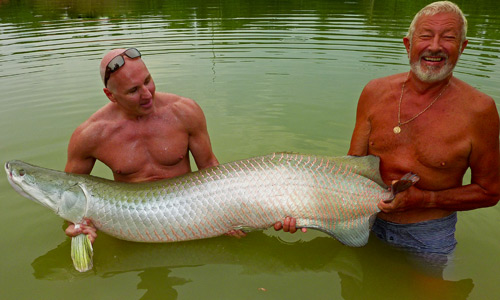 David Wilson has been involved with the Thai fishing scene for a very long time
and has managed and advised other fisheries in Thailand. His experience has
come to fruition in the creation of this pristine fishery.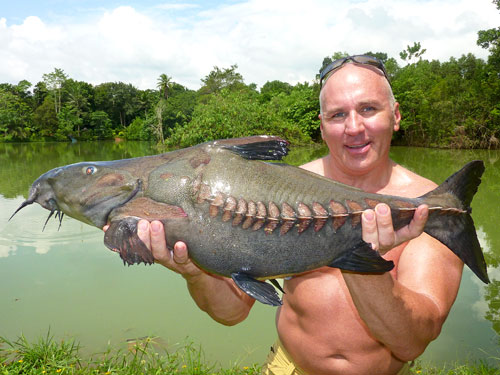 The lake is well but sensibly stocked with all the main species we have come to
love and expect in Thailand, Arapaima, Amazon Redtail Catfish, Alligator Gar,
Giant Siamese Carp, Rohu, Giant Mekong Catfish, Pacu, Cheow Phraya Catfish,
Cutler Carp, Tiger Catfish, Ripsaw Catfish, Tilapia and Julienís Golden Price Carp.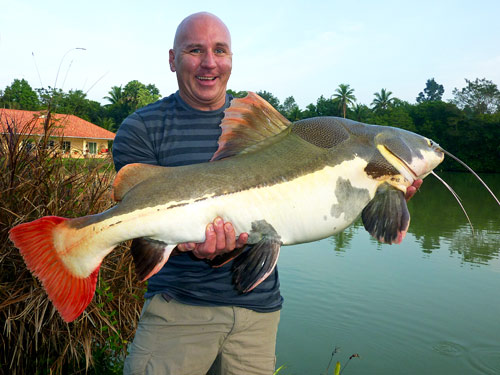 One of the most productive methods is float fishing with light tackle close to
the margins which works very well for the Carp and Barb species.
Predator fishing with live or dead baits works well for the many Catfish species
and the much sought after
Arapaima
.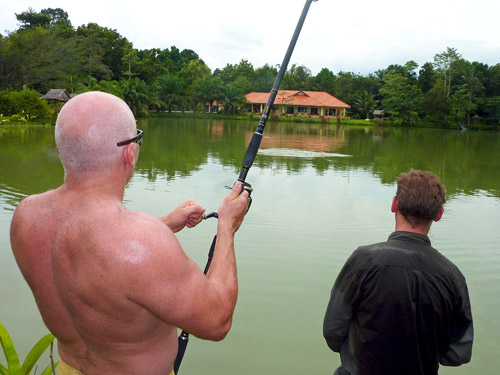 Food and soft drinks are provided as part of the package and there is a nice
resort close to the lake with swimming pools and restaurants that is
conveniently located for anglers fishing 2 or more days.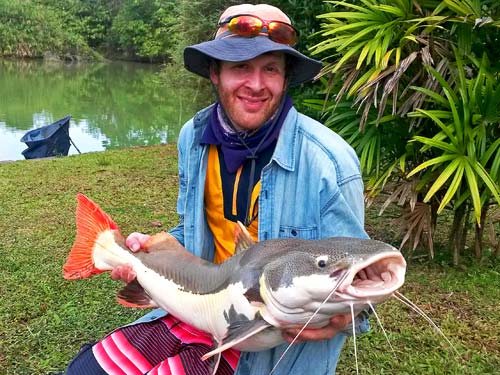 The lake is located in the province of Chumpon which is roughly half way
between Phuket and Bangkok which makes it a great stop over venue for
anglers on one of our multi venue road trips. Another great way to experience
this lake is to combine your visit with a trip to
Cheow Lan Lake
which is only a
2.5 hour drive away or
Exotic
or
Krabi
lakes which are 3.5 hours away.
Alternately this can be a standalone trip, but we recommend a minimum of 2
days if possible.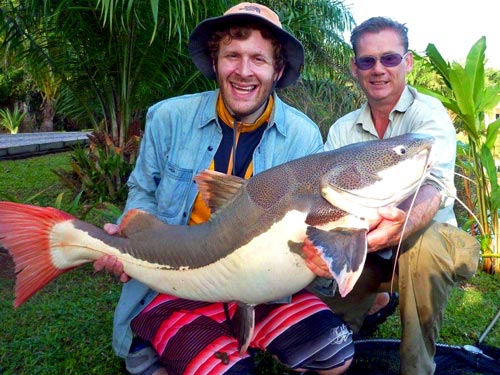 Whatís Included:

Transport to the lake and back to your hotel after the fishing.

All fishing equipment and bait.

Highly experienced very friendly fishing guide.

Private fishing hut.

Lunch and soft drinks.
Hotel accommodation for multi day anglers.
Prices:

1 angler, 2 days fishing 19,500 thb.

2 anglers, 2 days fishing 15,500 thb each.

3 anglers, 2 days fishing 14,300 thb each.

Please contact me for the price of this trip as part of a road trip or combined
Cheow Lan , Exotic or Krabi Lake trip.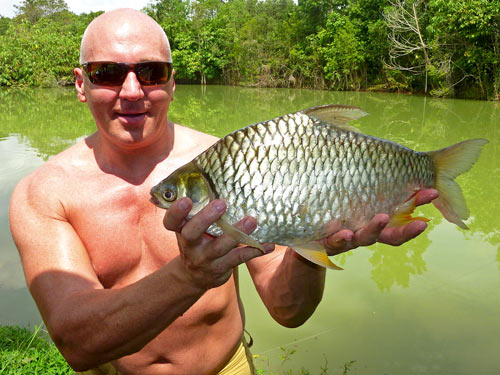 What to bring:
A hat, sunblock, camera, a smile and leave the rest to us!

---
We are looking forward to seeing you, so until then,
Tight Lines!
Book Now | Freshwater Destinations | Go to Top
E–mail Us | Site Map | About Us