IT Monster Lake.
Bangkok.
(Year round fishing).
Please call us, we speak English! +66 (0) 87275 6074
IT Monster Lake
is a well-established freshwater fishing lake in Thailand that
has been producing high catch rates for big predatory fish from around the
world for the last ten years. It has featured in several popular TV fishing shows
with big stars like
John Wilson's
Go Fishing and Robson Green's Extreme
Fishing.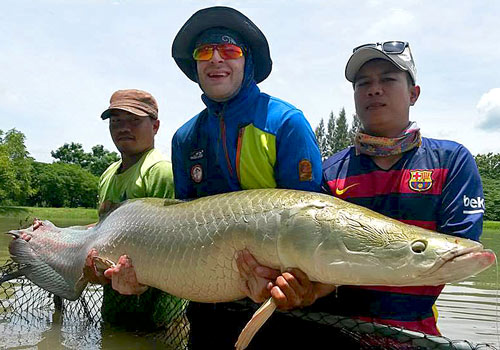 This lake is one of the highest catch rates for fishing in Thailand especially for
Amazon Redtail Catfish which are stocked in high numbers with an average size
of around 22 – 27kilos but reaching over 40 kilos! You are pretty much
guaranteed to catch a big Redtail if you come to this lake and catches of 25+
fish per day are quite normal! Other species present include Arapaima,
Alligator Gar, Tambaqui, Pacu, Thai Redtail Catfish, Tiger Shovelnose Catfish
and large numbers of some of the biggest Cheow Phraya Catfish in Thailand.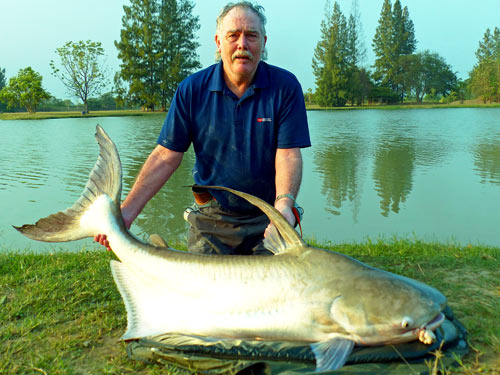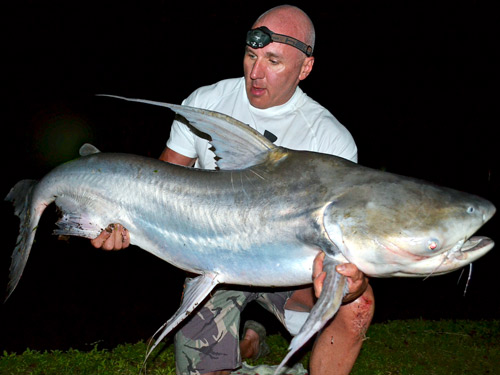 Cheow Phraya Catfish are without doubt one of the most aggressive and
ruthless predatory freshwater fish in the world. They work as a team and hunt
in packs like wolves, surrounding shoals or lone fish and all attacking at the
same time. It very spectacular to see, but I wouldn't like to be on the receiving
end of it! Live-baits fished close to the surface late in the afternoon or early
evening time work very well or a large piece of chicken.

The main fishing methods are dead-baits, live-baits, chicken and lure or fly-
fishing. Baits presented on or close to the bottom attract a lot of attention and
the action can be pretty much non-stop.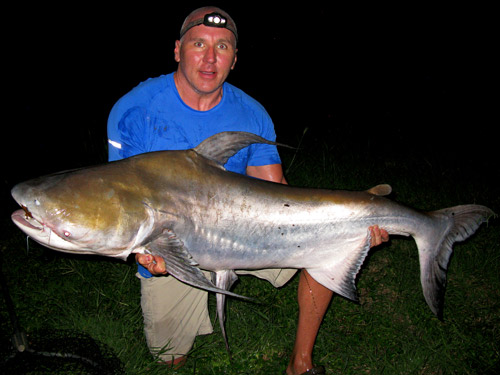 This lake is expensive to fish, but the high catch rate and massive fish makes it
well worthwhile. We offer full or half days fishing. Full days are 8am – 8pm,
half days are 8am –2pm or 2pm – 8pm.
For half days we recommend the 2pm – 8pm session.
---
You can keep up to date with what is being caught at IT Monster Lake
by clicking here, to read the latest catch results.
---
All fishing trips include:
Round trip transfer from your Bangkok hotel.
Full assistance of a fishing guide.
All fishing equipment and bait.
(Large live-baits are 50thb each extra when available).
Unlimited fishing from 8.00am until 20.00.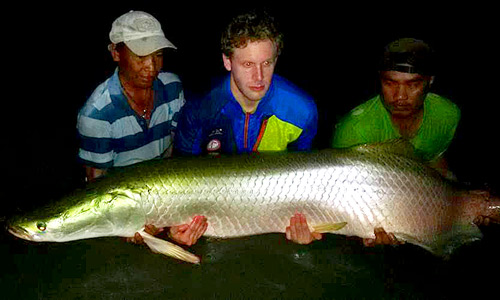 The fishing rods are medium weight saltwater spinning rods fitted with
matching spinning reels loaded with braided line.
Plenty of bait is included to last the whole day.

This trip is based from Bangkok.
Fishing prices using 1 fishing rod per angler:
Half day 8am-2pm or 2pm-8pm
Full day
1 Angler
8,500 THB.
12,000 THB
2 Anglers
7,000 THB each.
10,500 THB each.
3 Anglers
6,000 THB each.
10,000 THB each.
IT Monster Lake is a very popular destinations as part of one of our famous
Road Trips. As part of a road trip the prices are considerably cheaper including
guides and accommodation. Please email us for further information about our
road trips.

Non–fishermen are welcome to join you
at the lake free of charge.
---
We are looking forward to seeing you, so until then,
Tight Lines!
Book Now | Freshwater Destinations | Go to Top
E–mail Us | Site Map | About Us