Greenfield Valley Fishing and Cottage Resort
Bangkok, Hua Hin and Cha Am.
(Year round fishing).
Please call us, we speak English! +66 (0) 87275 6074
Fishing for monster exotic fish at
Greenfield Valley
close to Hua Hin is an
awesome experience every angler visiting Thailand or Bangkok should
enjoy. The lake is located in a very peaceful valley in the Thai countryside
about a 20 minute drive from downtown Hua Hin. The lake is set in tropical
well looked after gardens which make this the perfect setting for a nice days
fishing. The best part however is the fish. The lake is not too big, but the fish
are huge. Some of the biggest
Arapaima
and
Cheow Phraya Catfish
in the
country are lurking here just waiting to give you the fight of your life!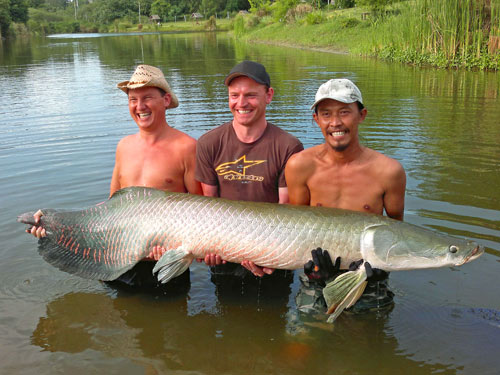 Arapaima are stocked to a massive 136+ kilos, and Cheow Phraya to 70+
kilos! There are also lots of smaller specimens of these fish, so even if you
donít hit the jackpot with one of the really big ones, you still have a very
good chance of catching their little brother. This is a very high catch rate
lake, especially for species like Amazon Redtail Catfish, Alligator Gar and
Pacu many of which go bigger than 10 kilos. There are some 25+ species in
the lake, including the usual suspects like Giant Siamese Carp, Giant
Mekong Catfish, Thai Redtail Catfish, Rohu and Walking Catfish. There are
also some really rare and very sought after species like Julianís Golden Price
Carp, Tiger Shovel Nose Catfish, Marbled Tiger Catfish, Giant Gourami,
Barramundi and Giant Snakehead.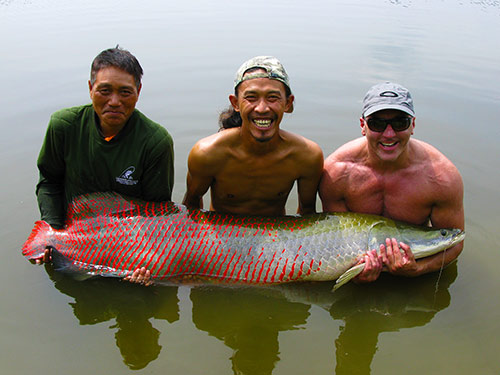 The fishery was designed and is managed by the extremely talented angler
and all round nice guy David Wilson, the brother of TV fishing superstar
John Wilson MBE. David is one of the nicest guys on the Thai fishing scene
and will make you feel more than welcome as well as being in safe hands.
The Thai staff are extremely friendly, knowledgeable and hardworking,
making the whole fishing experience highly enjoyable and relaxing.
There are 12 swims on the lake, but only a maximum of 5anglers per day are
allowed to fish, so in the unlikely event of a slow day, you will always have
plenty of other fishing spots to try if you need to.

For anglers wishing to fish multi-days, everything is available on site, nice
clean holiday bungalows with all the expected facilities like air-conditioning,
hot water, TV etc. There is an onsite restaurant and bar serving western food
and all the Thai favourites, so itís a very comfortable to stay for either just a
few days or a week or two.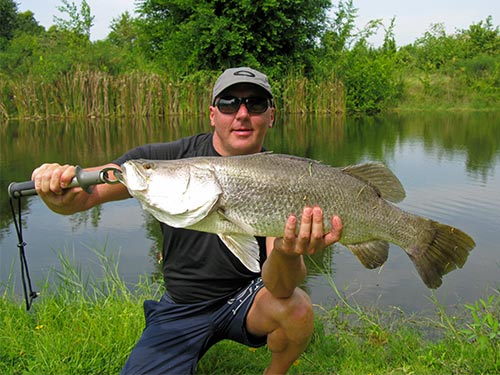 ---
You can keep up to date with what is being caught at Greenfield Valley
by clicking here, to read the latest catch results.
---
All fishing trips include:
Round trip transfer from your Bangkok hotel.
Full assistance of a fishing guide.
All fishing equipment and bait.
Unlimited fishing from 7.00am until 19.00.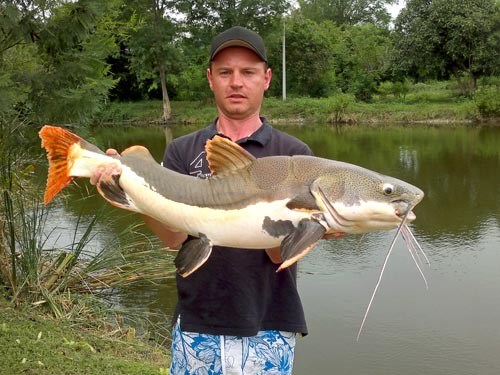 The fishing package is a 2 rod setup that can be either 2 predator rods or 2
carp fishing / non-predator rods or a combination of the two. It is sometimes
a good idea to fish for predators in the morning, and then switch at least 1
rod over to a non-predator set in the afternoon, then in the late afternoon
switch back to a double predator set up. Late afternoon / early evening can
be the best time for the really big predators.
The fishing rods are European standard Carp / Catfish rods fitted with
Shimano Baitrunners, rod pod and bite alarms.
Plenty of bait is included to last the whole day.

We can pick you up from Bangkok, Hua Hin or Cha Am.
Fishing packages using 2 fishing rods:
Bangkok:
Hua Hin :
Cha Am :
1 Angler
8,500 THB.
6,000 THB
6,500 THB
2 Anglers+
7,000 THB each.
5,500 THB each.
5,750 THB each.
Bungalows at the resort are priced from 1,200 THB per night, based on a
double or twin bed room. Extra Beds are charged at only 300 THB each.

Anglers fishing for 7 or more days qualify for free transfer from Bangkok, so
only pay 5,500 THB per person each day for the fishing.
Non–fishermen are welcome to join you
at the lake free of charge.
---
We are looking forward to seeing you, so until then,
Tight Lines!
Book Now | Freshwater Destinations | Go to Top
E–mail Us | Site Map | About Us