Fly-Fishing at Exotic Fishing Thailand
Phuket, Khao Lak, Ao Nang and Krabi.
(Year round fishing).
Please call us, we speak English! +66 (0) 87275 6074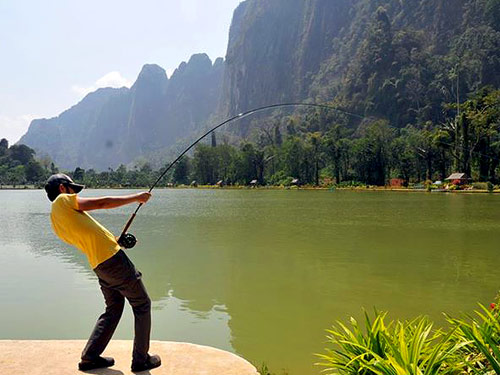 Exotic Fishing Thailand
is without doubt the most beautiful commercial fishery
in Thailand, its unique position amongst huge limestone karsts provide an
unrivalled background for nature loving fly–fishermen to indulge their passion.
This world class multi species mega lake was opened in October 2013 and has
now blossomed into one of the very best fisheries in Thailand.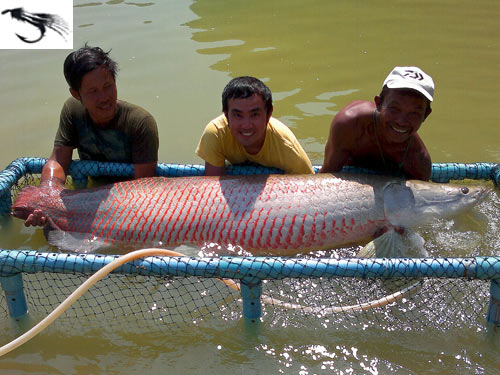 The lake was purpose built from the start to be a bait and fly fishery and there
are lots of spaces around this large lake where a good back cast can be made.
However you do not have to be the world's greatest fly fisherman to catch
massive fish in this lake, very often the very biggest predators can be caught
just a few meters from the bank in less than 2 metre deep water.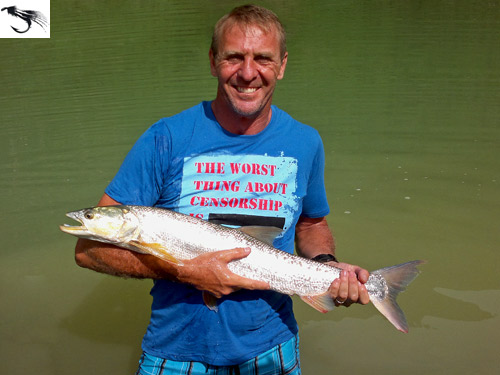 The key to success at this lake is to read the lake and watch what is happening.
Several of our target species breathe air, so sooner or later they will give away
their presence. Most fly anglers who come to fish Exotic Fishing Thailand first and
foremost want to target the mighty
Arapaima
. Our success rate of guiding fly–
fishermen at this lake at the time of writing after 18 months and many anglers
is around 80%! All our fly fishing clients have hooked Arapaima, they just
haven't all landed them!
Arapaima
have very hard bony mouths so a good hook set is imperative or the
fish will spit the fly very quickly. Extremely sharp but strong hooks are very
important, I personally recommend 4/0 Owner hooks. There is nothing worse
than losing your hard worked for dream fish due to a weak hook!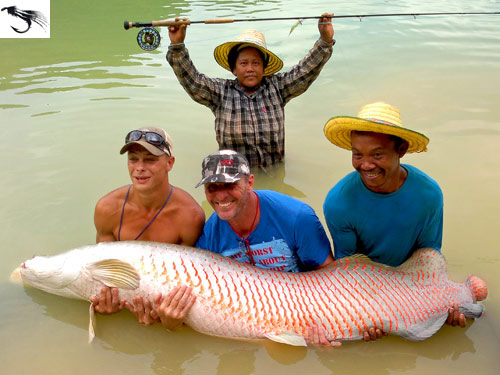 When it comes to tackle, the main rule is that the equipment has to be a
minimum of 12 weight. This rule is strictly adhered to and equipment brought
to the fishery will be checked for suitability. 12# fly equipment is provided if
required, but we do prefer if you can bring your own as all breakages to fly–
line, rod or reel must be paid for.

Streamer flies are by far the most effective in large bait fish patterns. The main
bait fish in the lake are Java Barb, a small silver fish very similar to the
European Roach, the other bait fish is Tilapia. Below are pictures so anglers
interested in tying their own flies have a good idea of what they need to
imitate. If you want to buy flies, Pike flies work well, but again make sure the
hook is strong enough to land 100+ kilo fish! All flies must be fished barbless.
Barbs flattened with pliers are permitted.
For more information about the lake, the fish species and its facilities, please
click
here
to check out all the details on our EFT bait fishing webpage.


Arapaima can be hooked at all depths, but many are hooked close to the bank,
so ideally you should bring an intermediate or floating line for most of your
fishing. A floating line with smaller flies can work well for Arawana and Yellow
Cheek Carp which mainly tend to stay in the upper layers close to the surface.
The maximum depth is 4.75 meters and if you can get your fly a good distance
a double eyed weighted fly with an up turned hook can work well fished slowly
along the bottom for several catfish and Pacu species. For leader material we
recommend at least 30lbs mono or fluorocarbon which the guide can supply if
required. Wire leaders are not allowed or required.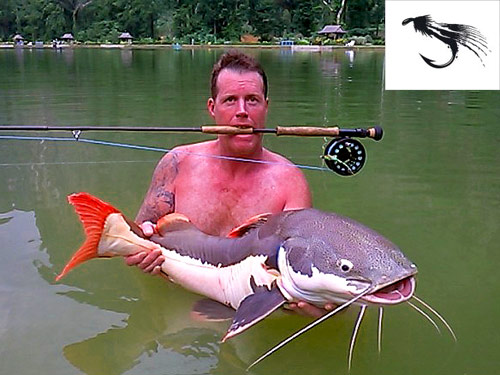 | | | | |
| --- | --- | --- | --- |
| Price per angler | 1 angler | 2 anglers | 3 anglers |
| ½ day 8am-12.30pm | 7,000 thb | 6,300 thb | 6,000 thb |
| ½ day 1pm-7pm | 8,000 thb | 7,300 thb | 7,000 thb |
| 1 day | 9,900 thb | 9,300 thb | 9,000 thb |
| 2 days | 21,200 thb | 19,800 thb | 19,500 thb |
| 3 days | 32,400 thb | 30,300 thb | 29,400 thb |
| 4 days | 43,600 thb | 40,800 thb | 39,600 thb |
| 5 days | 54,800 thb | 51,300 thb | 49,800 thb |
Transport and local hotel accommodation are included in the above prices for
multi day trips. For hotel info please check
here
.
At the time of your trip the guide will offer his opinion on what fish he thinks
you should target depending on how the lake has been fishing, weather
conditions, fish behaviour and your casting ability.
What to bring:
Please note that all fish photographs at this lake must be taken in the water so
bring some spare shorts with you.
Suitable comfortable footwear, sandals or trainers are sufficient, waders are
not required, you will be fishing from the bank at all times.
Long sleeve shirt.
Hat.
Polorised sunglasses.
Towel.
Sunscreen.
Camera (preferably waterproof).
Lightweight rain jacket
12 weight fly equipment with floating and intermediate lines.
Fly selection consisting of large and small streamers, double eyed weighted
flies with an up turned hook and any others you would like to try. We keep an
open mind when it comes to fly selection and like all fly fishing fanatics we are
interested in your ideas to help find the next deadly fly!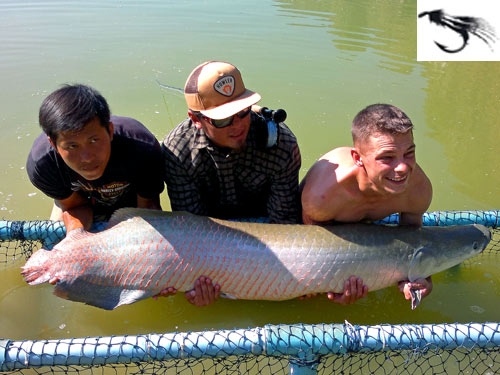 You can keep up to date with what is being caught at Exotic Fishing Thailand
by clicking here, to read the latest catch results.

---
We are looking forward to seeing you, so until then,
Tight Lines!
Book Now | Fly–Fishing Destinations | Go to Top
E–mail Us | Site Map | About Us